We're pleased to share that YVR has received Level 3 Carbon Accreditation by Airports Council International (ACI), recognizing our efforts to be a leader in sustainability. This year we 'leveled up' to Level 3 accreditation after being at Level 2 for the past two years.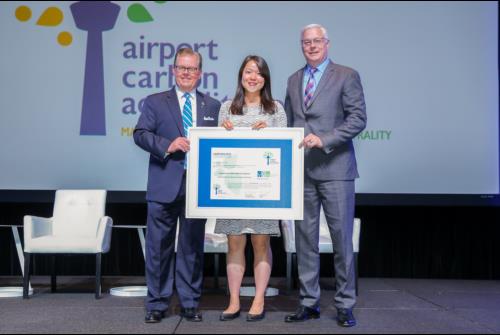 As part of Level 3 accreditation, airports are required to engage third parties in carbon reduction. Thanks to the help of our business partners, we achieved this new level of certification. We work closely with business partners and communities to minimize vehicle, building and aircraft gas emissions. This is done by promoting alternative forms of transportation to and from Sea Island, upgrading our fleet, improving airport infrastructure, reducing fossil fuel consumption and raising awareness of clean air practices.
Launched in 2009, Airport Carbon Accreditation is an independent program administered by WSP, an international consultancy appointed by ACI EUROPE to enforce the accreditation criteria for airports on an annual basis. 246 airports actively engage in the program, which spans over 68 countries worldwide. From May 2017 to May 2018, these airports collectively reduced CO2 emissions under their direct control by more than 347,000 tonnes. This is the equivalent of planting eight million trees over 10 years.
At YVR, our current 2015-2019 Environmental Management Plan sets the framework for all our environmental initiatives, which include diverting 50 per cent of waste from landfill and reducing potable water consumption on Sea Island by 30 per cent. For more information on YVR's sustainability initiatives and our commitment to the environment, click here.