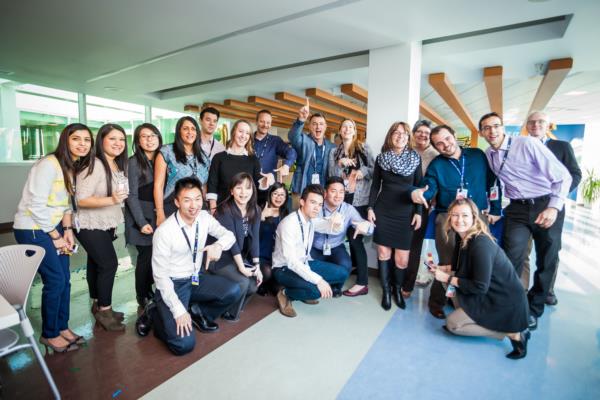 YVR is looking to grow to 29 million passengers by 2020, but we can't do it without more dedicated, motivated and enthusiastic people. We are looking for candidates who want to challenge themselves in an incredibly unique and always changing environment. There are currently over 20 open job postings, but here are a few jobs we'd like to highlight this month:
Technical Specialist – Permits
Our Engineering Services Department is looking for help! This permanent, full time opportunity directs and control the Facility Permit Program for all new construction, facilities alterations, and/or civil work in accordance with Airport Authority codes and standards. Key responsibilities include providing support to project managers by retrieving past permit documentation, monitoring project construction, and ensuring safety reviews are done for occupancy. Find out more here.
Administrative Assistant
This permanent, full time opportunity provides support for the management, planning, and administration of leased spaces within the Vancouver Airport Property Management LLP (VAPM) and Cargo & Business Development (CBD) portfolios. Responsibilities include maintaining database of VAPM and CBD leased and vacant areas, coordinating tenant moves, preparing lease analysis documentation, and preparing for the transition of new leases. Apply for this position here.
Information Security Specialist
The IT Department is looking for an Information Security Specialist to fill a permanent, full time position. Key responsibilities include regularly assessing the strength of YVR IT security governance, assisting with security reviews and technical guidance, and researching and monitoring new IT technology, security threats, and potential vulnerabilities. Click here to find out more about this position.
Senior Program Analyst
The Customer Care Department is growing! A successful candidate will be a permanent, full time member of the Operations team, with responsibilities including performing detailed analysis of data sources to enhance airport processes, leading the implementation of changes that directly impact and improve airport operations, and developing new and innovative programs to enhance the overall customer experience. Find out more here.
Electrician
As a full time member of the Maintenance Department and a part of a multi-trade crew, the successful candidate will be responsible for the upkeep and development of the electrical safety program at YVR. Key responsibilities include conducting field reviews and inspections of electrical distribution, power, lighting, fire alarm, and building systems, reviewing construction design documents for compliance with airport codes, and developing standards and operating procedures for various electrical elements at the airport. More information can be found here.
Plumber
The Maintenance Department is looking for a new member to join their team! The successful candidate will be responsible for maintaining plumbing, sewage, fire protection, dyke pump stations, fire hydrants, and back flow preventers throughout Sea Island. Other responsibilities include testing and maintaining back flow preventers to ensure they are to standard, ensuring sewage systems are operating in good condition, and collaborating with other trades on the maintenance and repair of loading bridges, baggage systems, etc. Click here for more information about this position.
If these jobs don't speak to you, we still have another 20 opportunities available. Visit yvr.ca/careers to find out if there's something for you!