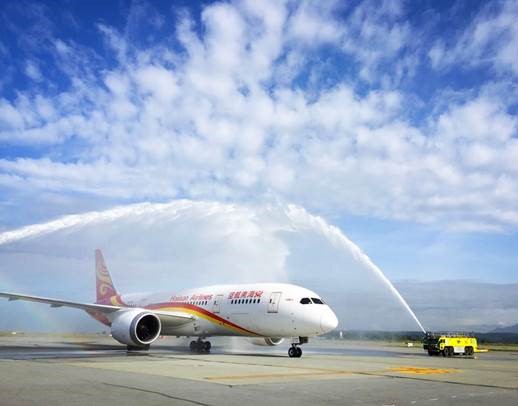 YVR celebrated the arrival of Hainan Airlines and its inaugural flight between YVR and Shenzhen Bao'an International Airport (SZX) via Tianjin Binhai International Airport (TSN) this morning with a traditional water arch and ribbon-cutting ceremony. The twice-weekly service marks the first route to Shenzhen and Tianjin from Canada and is Tianjin's first connection to North America.
The addition of the new airline partner means YVR now has the most Mainland Chinese carriers in North America.
The route will be operated on a Boeing 787-8 Dreamliner aircraft with a seat configuration of 36 Business class and 177 Economy class seats. Hainan Airlines will depart from YVR at 11:30 a.m. and arrive at TSN at 2:15 p.m. (+1), before continuing the journey. The flight arrives at SZX at 7:45 p.m. On return, it departs SZX at 7:25 a.m. and arrives at TSN at 10:25 a.m. before departing Tianjin and arriving at YVR at 9:30 a.m.
The operational and tourism impacts contribute $12.4 million in economic output and more than $6 million in GDP for B.C.
For further details this service and to book online, please visit www.hainanairlines.com.