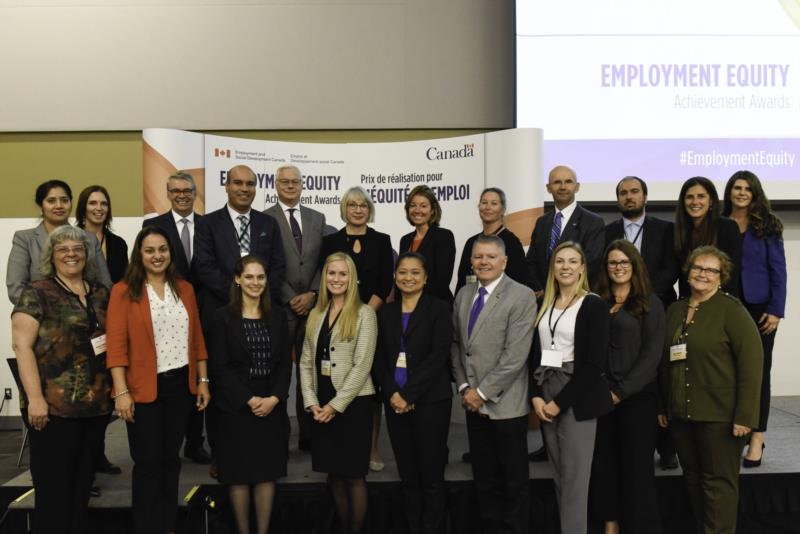 Good news from Ottawa—and just in time for Diversity Awareness Month. YVR was recognized by the Government of Canada for outstanding achievement in employment equity with two Employment Equity Achievement Awards: the Sector distinction award and the Employment Equity Champion award.
The Honourable Patricia Hajdu, Minister of Employment, Workforce Development and Labour, presented YVR President and CEO Craig Richmond with the awards on October 3.
The 2018 Employment Equity Achievement Awards highlight employers that are committed to creating diverse and inclusive workplaces in Canada, in particular for four designated groups: women, Indigenous peoples, persons with disabilities and members of visible minorities. At YVR, we identify occupational gaps in our workforce and set specific hiring targets for the four groups listed above.
The Sector distinction award recognizes employers who are inspirational role models in their sector. In addition to demonstrating a strong commitment and achieving success in implementing employment equity in their own organization, these employers also champion employment equity for the sector.
Craig Richmond was presented with the first-ever Employment Equity Champion award. This category recognizes an executive for their proven track record of championing employment equity within their organization, as well as their overall contribution to diversity and inclusiveness in the workplace.
At YVR, we strive to create a workplace that reflects the diversity of the communities we serve and this includes a commitment to diversity and inclusion across the organization. We believe in inclusiveness—that everybody should be able to fly and enjoy the world and, in the same way, that everybody should be able to have a great career working at the airport.
To learn more about Team YVR and current opportunities, check out our careers page.
Above photo courtesy Government of Canada Labour Program