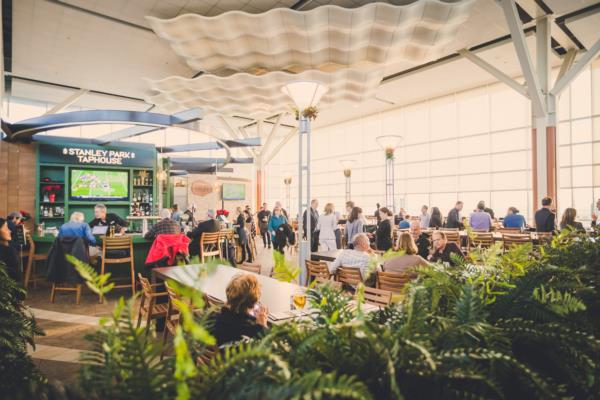 Did you know that YVR has more than 170 shops, services and restaurants located before and after security, providing great shopping opportunities to travellers and the local community alike? From SSP Canada to today's #YVR25Million partner HMS Host, our passengers get to experience a taste of the west coast while travelling through YVR.
And today, as part of our #YVR25Million celebration, we're partnering with HMSHost to say thanks. This morning, you'll see us in the terminal handing out vouchers accepted at Starbucks, Burger King, White Spot, Brioche Doree, Famous Famiglia, Canucks Bar & Grill and Stanley Park Taphouse. In addition, the team at HMSHost have prepared a special treat for all those beer lovers. In 2018, HMSHost developed its only beer with the Brew Master at Stanley Park Brewing. Wheels Up is a great West Coast IPA and available only at HMSHost locations at YVR. Between 3 and 6 p.m. today, stop by Stanley Park Taphouse, White Spot or Canucks Bar & Grill to meet their team and try a sample of this unique brew.
Our relationship with HMSHost dates back to 1994. In fact, Vancouver was the first Airport Operations in Canada for HMSHost and has grown proudly with our airport community. So 25 million—that means one in five passengers have stopped by for a coffee at one of HMSHost's six Starbucks locations this year. That's a lot of coffee!
For a full list of YVR's dining options, click here.