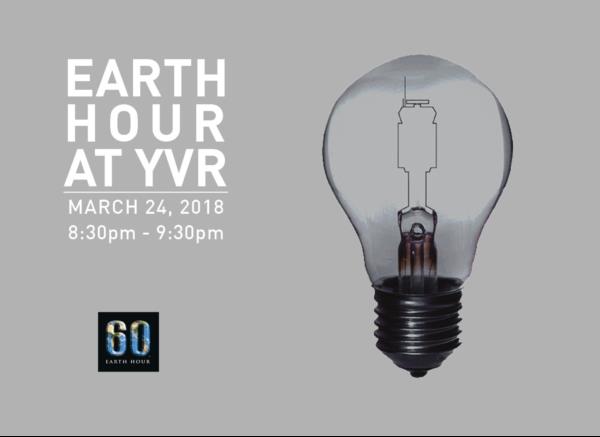 2018 Earth Hour is on the horizon, and YVR is prepped and ready to participate. On March 24th, between 8:30 – 9:30 p.m., YVR will join the movement in supporting environmental protection by turning off some non-essential lighting in and around the terminal, and we encourage all staff, tenants and the public to do the same!
Earth Hour 2018-2020 is focused on generating conversations around biodiversity and sparking initiatives to protect ecosystems around the globe. British Columbians know that we live in a pretty magnificent place. Did you know that BC has greater species diversity than anywhere else in North America? Now that's something to boast about! But with greatness comes great responsibility right? At YVR we recognize the importance of protecting the extraordinary abundance of species within British Columbia's marine, freshwater and terrestrial ecosystems. During Earth Hour 2018 YVR will join the conversation and #Connect2Earth with the rest of the world.
How is YVR doing our part to protect biodiversity in British Columbia? In 2016 we became North America's first airport to become Salmon Safe certified, meaning we undertake measures to prevent airport operations from harming the Fraser River's salmon habitat. We are researching drought-tolerant landscaping methods, and are removing invasive plants to allow native species to thrive. We are pushing our recycling to new heights through innovations like onsite composting of food court food waste, and collection of chopsticks to be used in furniture construction. We are swapping out water fixtures like toilets and urinals with low-flow models and providing incentives for our tenants to do the same. You may also notice that we are replacing some of our fleet vehicles with electric models, and adding more EV charging stations to our parkades to truly make our Sea Island community more sustainable. YVR was also recognized for the largest installation of an apron LED lighting system in Canada - saving 715,000 kWh annually! Feeling inspired? Reduce your carbon footprint during Earth Hour and throughout the year! Give these ideas a try:
Have a candle-lit dinner.

Turn off all the lights and have fun eating with just candles illuminating your meal!

Play board games instead of using your electronics.

Bring back the classics – Monopoly, Scrabble, or Settlers of Catan.

Go stargazing.

What better way to conserve energy than by watching Mother Nature's favourite channel – the stars!

Cycle, take transit or carpool!

Reduce emissions and #Connect2Nature – It's a win-win!
So this year, at 8:30 p.m. on March 24th, join us by turning off all your non-essential lighting. Challenge yourself to implement the above methods into your daily routines even after Earth Hour, so you can Go Beyond, Every day!
Click here to learn out more about YVR's sustainability initiatives and how YVR is reducing energy and water use, diverting more than 50% of our waste from landfill, and protecting ecosystem health all while operating Canada's 2nd busiest airport.