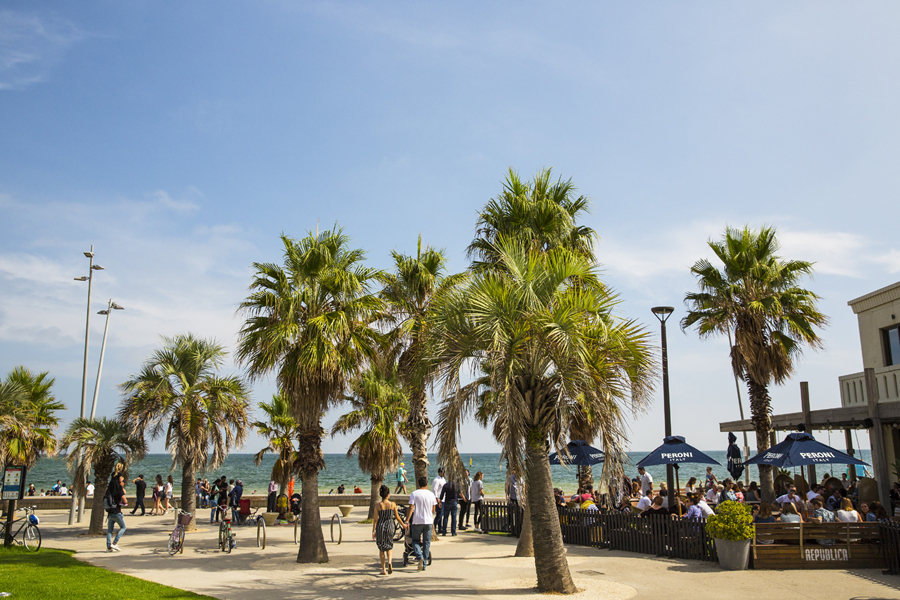 Photo Credit: Australia Tourism Board
As of June 2018, Air Canada will be flying non-stop year-round from YVR to Melbourne, Australia. This is the third route to Australia from YVR now, with additional routes to Sydney and Brisbane operating daily.
"The launch of year-round service next June will provide additional options for business and leisure travellers between our two continents," said Benjamin Smith, President – Passenger Airlines at Air Canada. "Our Melbourne flights complement our daily flights from Canada to Sydney and to Brisbane, solidifying our market-leading position as the airline providing the most service between Canada and Australia. The seamless connections through in-transit pre-clearance facilities, combined with our extensive domestic Canada and U.S. network at our Vancouver hub, positions YVR to be the preferred transpacific gateway for business and leisure travellers travelling between North America and Australia."
This 16 hour flight will leave Vancouver every Sunday, Wednesday and Friday at 10:50pm, and arrive in Melbourne at 8am two days later. Return flights will leave Melbourne every Sunday and Friday at 9:40am, and arrive back in Vancouver at 7:35am that day. Both of these flight times have morning arrivals which allows for easy connections or a full day of sightseeing!
This route will operate on Air Canada's Boeing 787-9 Dreamliner aircraft, which seats 298 passengers.
The Business Class cabin features 30 lie-fat Exclusive Pods that allow for full recline with a width of 21 inches. The 1-2-1 configuration guarantees airless access with window views for every passenger.
The Premium Economy cabin contains 21 seats in a 2-3-2 configuration. There is 38 inches of leg room, a 19 inch seat width and a 7 inch recline. The full Premium service offers passengers complimentary bar service, priority check-in and baggage delivery at the airport.
The Economy cabin features 247 slimline seats in a 3-3-3 configuration. There is a 30 inch seat pitch, a 17 inch width, and 5 inch recline. Every seat is still equipped with its own 9 inch entertainment system, USB outlet and universal power port.
Whether you're flying Business or Economy, this lengthy journey down under will be that much more comfortable and convenient aboard Air Canada's Dreamliner!
Hop on this non-stop flight to experience Australia's cultural hub. Perfect for foodies, music lovers, sports enthusiasts, and anyone who enjoys the sun 365 days a year.

Melbourne, Australia
To start off your trip, take a lap on the City Circle tram, which is free for tourists, to get a sense of place and stop at some main downtown attractions. Using the City Circle you can get to Federation Square, where two of the biggest galleries are located (which are also free). Next, head to the historic Queen Victoria Market, where you can pick up souvenirs and fresh food. Continue on to one of the lush gardens nearby for a picnic, such as the Carlton Gardens or the Botanical Gardens.
Melbourne's 94-acre botanical garden is said to be one of the finest presentation of Victorian-era landscaping in the world, attracting over 1.5 million visitors each year. If you're visiting during their summer, the gardens are host to the Moonlight Cinema and many other theatre performances.
If you're a fan of the botanical gardens, check out the zoo next. Set in impressively landscaped gardens as well, this is the world's third oldest zoo, established in 1861. The natural setting provides the animals a true habitat, where they are even able to hide, so you may need to plan for some extra time to get a glimpse at everything! Stroll through Lemur Island, the recreated Southeast Asian jungle village and a tropical hothouse, or if you're visiting with young children you can camp overnight and join the keepers during their morning feedings.
A short Tram ride out of downtown delivers you to St Kilda beach, where you can swim and relax before adventuring over to Luna Park for some exciting rides or to stroll down Acland Street for its European cake shops. If you find yourself here on a weekend, head over to Esplanade Market, which is on every Sunday of the year, where you'll find something for everyone.
Another weekend option is the Rose Street Artists' Market, in village-style neighbourhood Fitzroy. Also on Sundays only, this market offers unique shopping and a great atmosphere due to it's huge line-up of creative Melbourners. There's even a rooftop bar to refuel and catch a glimpse of the view!
I love Melbourne and I'm so excited that the only direct flight in Canada is right here in Vancouver! I hope you enjoy your travels down under!
About Claire Newell
Claire Newell is a travel expert, author and a recognized authority on the international travel industry. She is the founder and owner of Travel Best Bets, one of the largest agencies in Canada and the best-selling author of Travel Best Bets – An Insider's Guide to Taking Your Best Trips, Ever. She has appeared in top broadcast and print media throughout U.S. and Canada over the last 25 years, including Canada's Global TV network, NBC's Today Show, Fox & Friends, CNN, and others. Claire also writes regularly for print and online publications including Readers' Digest, Today's Parent and more