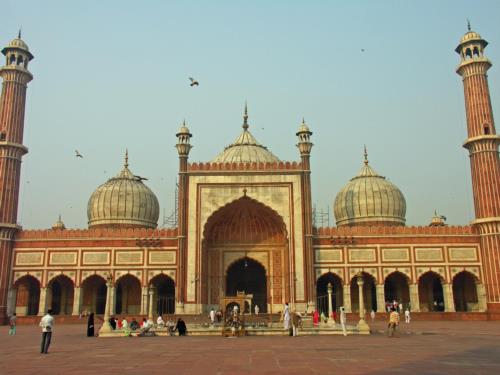 After an incredible year, Air Canada expand its seasonal non-stop service from Vancouver to Delhi to a year-round service. Air Canada will fly its next generation Boeing 787 Dreamliner on the route. So whether you're flying Business or Economy, the 14 hour journey to Delhi will be quieter, more comfortable and convenient. The service to Delhi departs from Vancouver every Tuesday, Wednesday, Friday and Sunday. Flights returning to Vancouver will depart from Delhi every Monday, Wednesday, Thursday and Saturday.
Once you arrive, you will have an incredible city to explore. Delhi, India's Northern capital territory, is a massive metropolitan area. Old Delhi dates back to the 1600s, featuring incredible ancient sights and attractions. Be sure to visit the Mughal-era Red Fort, Jama Masjid mosque and the nearby Chandi Chowk.
Red Fort was built just a few decades before the Palace of Versailles in France and served as the main residence for Mughal dynasty emperors. However, it was partially destroyed by the British around 1857. The fort is now the setting for an evening sound and light show, narrarted by Amitabh Bachchan.
Jama Masjid mosque is India's largest mosque, built in the 1600s and on a 10m elevation so that it towers over the busy hustle of Old Delhi. There are two minarets which reach 40m tall, one of which can be climbed for incredible views of the city!
Chandi Chowk, also known as Moonlight Square, is one of the oldest and busiest markets in India. It was originally designed and established by Princess Jahanara Begum in 1650, with a pool in the very center that shimmered in the moonlight- likely giving the square its unofficial name. Today, the vast narrow lanes host shops selling clothing, jewelry, books, fabrics, food and everything else you could think of.
Delhi is a wonderful city to visit and I'm so excited that we, Canadians, can now get there so easily with Air Canada's new year-round route!
About Claire Newell
Claire Newell is a travel expert, author and a recognized authority on the international travel industry. She is the founder and owner of Travel Best Bets, one of the largest agencies in Canada and the best-selling author of Travel Best Bets – An Insider's Guide to Taking Your Best Trips, Ever. She has appeared in top broadcast and print media throughout U.S. and Canada over the last 25 years, including Canada's Global TV network, NBC's Today Show, Fox & Friends, CNN, and others. Claire also writes regularly for print and online publications including Readers' Digest, Today's Parent and more