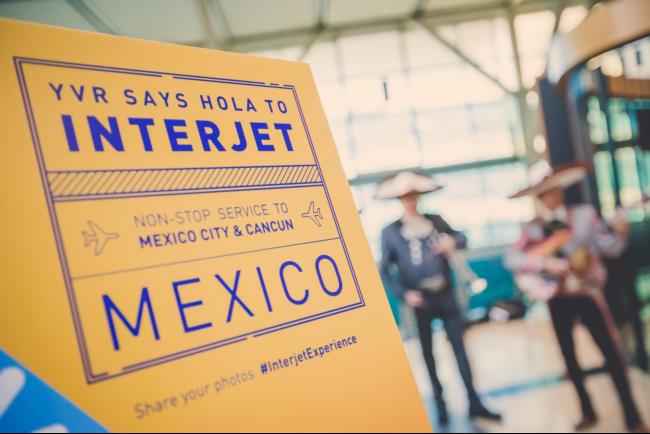 Back in October, Interjet launched its year-round, non-stop service between Vancouver (YVR) and Mexico City (MEX) and Cancun (CUN). Interjet is known for offering quality service at a great price. Even the snacks and drinks are included onboard!
Interjet's new service uses a modified Airbus A320 featuring 150 seats with a 34" seat pitch, which translates to 20% extra space to maximize legroom.
Starting at $519 CAD, the service operates 4 times per week, on Mondays, Thursdays, Fridays and Sundays. Interjet will depart from YVR to MEX at 9:30 p.m. and arrive at 5:15 a.m. The return flight from MEX will leave at 12:35 a.m. and arrive at 4:50 a.m. The CUN service will depart from YVRCl at 5:50 a.m. and arrive at 13:05 p.m. The return flights from CUN will leave at 4:00 p.m. and arrive back to YVR at 8:15 p.m. These early destination arrival times allow for easy connections with Interjet's expansive network from these two central airports. From Mexico City, Interjet flies to destinations such as San Jose, Costa Rica, Bogota, Colombia, Guatemala City, Lima, Peru and many more.
Mexico City
Mexico City, originally an Aztec city, is now the most populous city in North America. Founded in 1325, it is also the oldest capital city of the Americas. In the 16th century, it was conquered by the Spanish and Mexico City was built over the ruins. Today, the city opens many historical attractions from the Aztec era to both locals and tourists.
The best time to visit is between March and May. Although a bit busier, the weather is beautiful, considering the winters can be cold and the summers can be rainy. However, for us Vancouverites, their winter is similar (avg. 13 °C) and the rain is nothing new, so this may be a reasonable trade for fewer crowds.
A symbol of Spanish culture in the New World, the Palacio Nacional has been the site for the ruling class of Mexico since the Aztec Empire. Located in the city's main square, you'll find 9 Diego Rivera murals, Cortes' palace, the Museum of Culture, and much more.
The Pyramid of the sun is the largest building in Teotihuacan, measuring 738 feet high and 246 feet wide, making it the third largest pyramid in the world. Originally built around 200 CE, it was resorted in 1910, however many of the historical artifacts and drawings remain.
Another impressive structure is the Templo Mayor, Spanish for "Main Temple", which is found in the once capital city of Tenochtitlan, now Mexico City. Although rebuilt several times, it was originally constructed around 1325 before being destroyed by the Spanish in 1521. The temple was only rediscovered in 1980, and has since been excavated with artifacts placed inside a museum. The site was added to the UNESCO World Heritage List in 1987.
Cancun
Cancun was built on a specially chosen spot at the tip of the Yucatán Peninsula. Technically an island, Cancun's resort zone is a 14 mile long slender ribbon of sand, shaped like the number "seven". And in less than 3 decades, the 'Hotel Zone' has more than 30,000 rooms, all in different styles of accommodations…condos, quaint Mexican hotels & a huge array of all-inclusive resorts.
The temperature averages 27°C year-round, so you generally can't go wrong visiting any time, but the wet season is from June to October. November and early December are perhaps the best times to go as there are fewer tourists and the prices are lower than at other times of the year.
Xcaret Park is an eco-archaeological park that offers attractions such as swimming with dolphones, snorkeling, water slides, river rafting, as well as Mayan culture sites and performances. Other natural adventure sites are Ik Kil, Isla Contoy, Xel-Ha Park and Sistema Dos Ojos. Each has a unique offering, but they are all equally stunning!
If you're feeling active, head over to the ancient city of Coba, which features a rare climbable pyramid. If floating through an underground river is more your speed, there are many cenotes around Cancun that are well worth a visit. Especially if you bring a waterproof camera!
There are so many amazing destinations around Mexico and I am so excited that we now have easier access from Canada via Interjet! Happy travels!