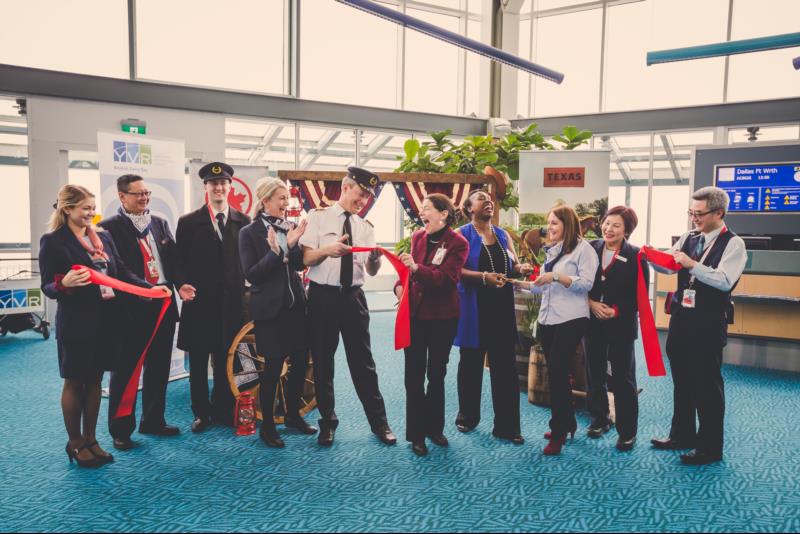 Today, YVR celebrated the inaugural Air Canada flight to Dallas, Texas complete with cowboy hats and baby back ribs. This new daily year-round service is timed strategically to connect travellers to Air Canada's extensive Asian flights out of YVR.
Air Canada joins American Airlines in offering service from YVR to this important centre. Dallas Fort Worth International Airport (DFW) is the third largest airport in the world in terms of operations and tenth in terms of passengers, serving more than 65 million passengers. Along with being a superhub, this airport provides access to the city of Dallas which is the ninth largest in the U.S. and has a robust business climate being home to 21 Fortune 500 companies.
YVR is always looking to provide more flexibility and choice in our services and Air Canada has been an incredible partner in helping us do so by continuously delivering new and exciting destinations for our customers. Air Canada has introduced eight new services to YVR in the last two years including: Osaka, Cancun, San Jose, San Diego, Chicago, Dublin, Brisbane and Delhi. This growth continues in 2017 with five new destinations scheduled to launch, including yesterday's inaugural to Dallas and then Taipei, Nagoya, Frankfurt and London Gatwick in May and June.
Bring on the celebrations!