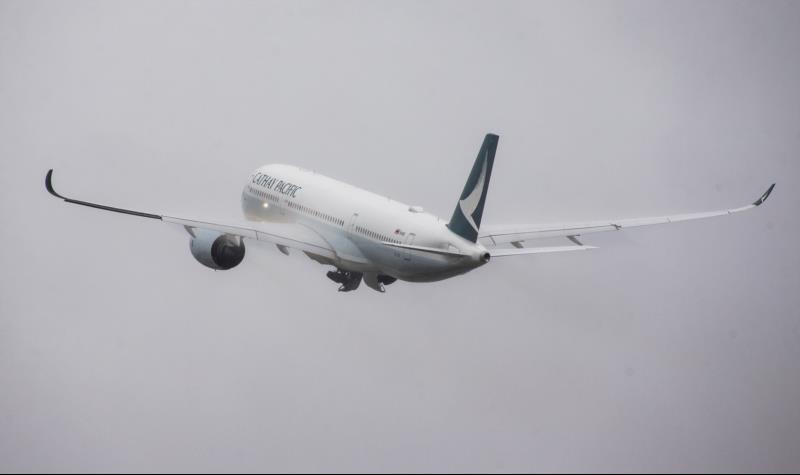 YVR celebrated the launch of Cathay Pacific's increased service between Vancouver and Hong Kong today with the first scheduled Canadian arrival and departure of an Airbus A350-900 aircraft. The state-of-the-art aircraft will service the YVR and Hong Kong International Airport (HKG) route, offering more direct flights and seats than any other airline with 17 flights per week and an additional 87,360 seats annually from YVR.
The new Airbus A350-900 is the quietest among the aircraft types in its class and is 25 per cent more fuel efficient, with corresponding reduction in emissions, with the latest generation Rolls Royce Trent XWB engines. The aircraft features a refreshed Business Class cabin and new Premium Economy and Economy Class seats that offer more space and comfort, panoramic windows and LED mood lighting. The Airbus A350-900 has also provided an opportunity for Cathay Pacific to prove itself again as a leader in airline eco-innovation. The cabin carpets and passengers' blankets are made from recycled plastic and nylon, including plastic bottles and salvaged fishing nets that are otherwise a hazard for marine life.
The new increased frequency will provide more opportunities for BC businesses to connect with local markets in Hong Kong and other regions throughout Asia, while providing more options and flexibility for local and international travellers. The three additional flights per week will generate approximately 163 additional jobs in British Columbia both at the airport and in the tourism industry, $5.6 million in wages, $1.6 million in taxes and $8.6 million in Gross Domestic Product.