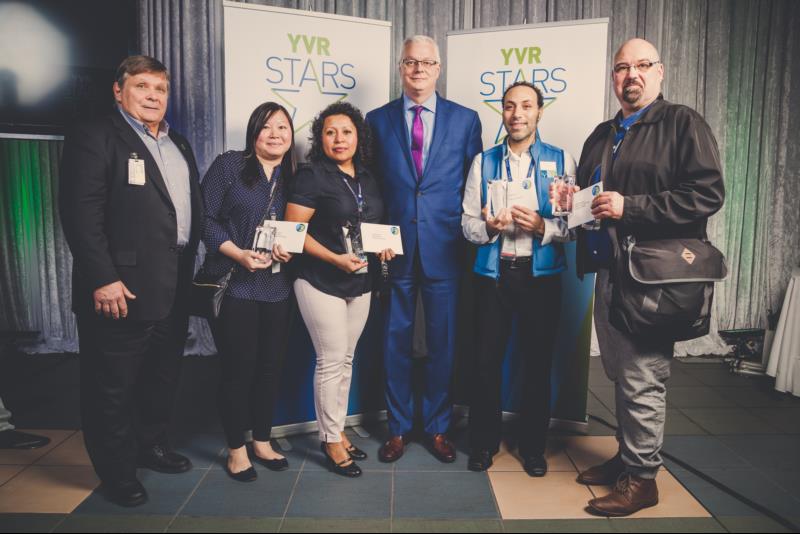 There are so many incredible people who go beyond, every day at YVR to help give passengers and our community an amazing airport experience. These people are true YVR Stars. In 2016 we received more than 500 nominations by email, in-terminal ballot and social media of airport employees who went the extra mile to assist somebody at YVR, and we invited them all out to the YVR Stars gala to recognize their incredible efforts and hand out a few awards.
And the winners are -
Beyond, Every Day - Hassan El Haimeur, Marquise
The nomination for this YVR Star was submitted by a customer who hadn't realized they had forgotten a bag containing very important items on a baggage cart at the curb. With nothing but a hotel receipt as a clue, Hassan tracked down the passenger and reunited them with their baggage. The customer shared how extremely grateful they are for this YVR Star's ingenuity and proactive customer service as the gravity of losing what was in the bag would have been impossible to replace.
Safety Award - Alan Mou, Carillion
This YVR Star's dedication to a safe work environment is unparalleled. He is concerned about the welfare of everyone at YVR, and is always happy to share his knowledge and best practices. Alan is constantly looking for things that need to be repaired in the terminal. He often finds items that are out of his scope, but since he knows it needs to be fixed, he gets the work done.
Security Award - Fabien Morere, Green Coat Volunteer
This member of the YVR community received new training with a focus on airport operations. One of the biggest learning objectives was security awareness around the terminal. Little did he know that he would apply what he learnt in real life, when this nominee notified Airport Operations of suspicious activity, reporting a crime in progress. He mitigated a potential risk, maintaining a safe environment for everyone at YVR.
Teamwork Award - Bob Bigelow, Securiguard; Lupita Silva and Elena Tam, Aeromexico
Late one evening, an arriving passenger in a wheelchair was waiting in the International Terminal for a family member to pick him up, but there was no sign of anyone. This team joined forces to help the elderly gentleman out, calling dozens of numbers, getting a blanket from the Chapel to help ward off the chill, buying him food and drink, contacting the RCMP to assist with locating his family, and paying the taxi fare to finally send him home from their own pockets.
To nominate a YVR Star, please submit the form below or send us an email at [email protected], letting us know the date and time you visited YVR, the name and company of the employee who helped you, and the story of how they made your day.