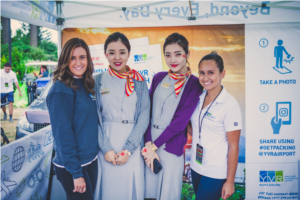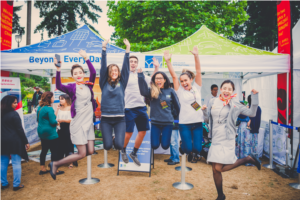 The YVR Flight Crew attended Fusion Fest - a vibrant, energetic and multicultural community event. The inviting atmosphere welcomed festival goers where they could experience a full range of food, activities and entertainment from around the globe. Although we had some overcast weather on Saturday, that did not stop the community from attending the event and showing up to support the multicultural network in Surrey. The sun finally came out on Sunday and resulted in even larger crowds and a great summertime festival experience! Highlights include...
Nelly Furtado: After the booths shut down on Saturday night, many vendors and visitors made their way to the main stage to watch Nelly Furtado perform. She stole the show with her amazing voice and on-stage presence! The Flight Crew even had an opportunity to take a photo with Nelly backstage (Eeeek!).
Multicultural Food: The food options were endless at Fusion Fest. Flight Crew favorites included samosas, chai tea, German pork hocks, pad thai, Pilipino pork adobo and lumpia and Columbian cholado. We had the chance to explore the various food vendors both days and we were thoroughly impressed!
YVR Sponsored Pavilion: YVR was the cultural community stage and pavilion sponsor at Fusion Fest this year. The community stage hosted many great acts including traditional dances from around the globe and live music. The public thoroughly enjoyed the entertainment thanks to YVR!
Join us this week at the Celebration of Light for your chance to win two free flights to Hong Kong. If you missed the last Through the Aviators series, you need to find out how amazing Carnaval del Sol was. #stayfly