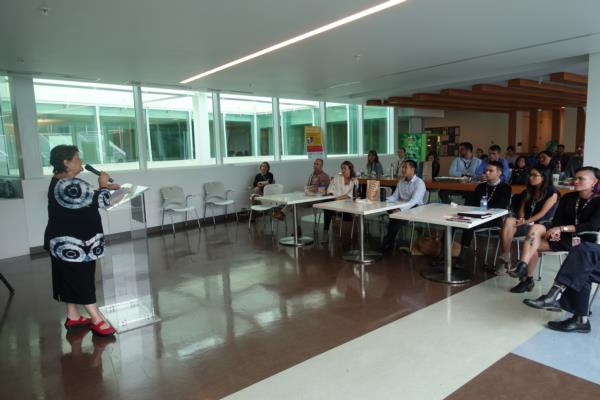 YVR employees recently joined a special presentation by Reconciliation Canada speaker Yvonne Rigsby-Jones. Yvonne is Snuneymuxw First Nation and Coast Salish. Over the years, her work adapted and changed from being addiction specific to pioneering and developing programs to help with sexual abuse and childhood trauma, residential school healing, elders healing and grieving individuals. Through Yvonne's personal stories, YVR employees learned what reconciliation means to us as an organization and as individuals. This is why we are so happy to be participating in the 2017 Walk for Reconciliation.
The Walk for Reconciliation is a positive movement to build better relationships among Indigenous peoples and all Canadians. Come join us for this important event!
Date: Sunday, September 24, 2017
Time: 9:30 a.m.
Location: 650 Cambie St. Vancouver, BC.
The walk is a two-kilometer route from Cambie St. and Georgia St. to Strathcona Park.
For more information on the Walk for Reconciliation, please visit: http://reconciliationcanada.ca/
Vancouver Airport Authority is proud to have recently signed the Musqueam Indian Band-YVR Airport Sustainability & Friendship Agreement, a 30-year agreement based on friendship and respect to achieve a sustainable and mutually beneficial future for our community. Vancouver International Airport and Musqueam Indian Band are located in the same community on land that is Musqueam traditional territory. This momentous Agreement is a meaningful way to honour aboriginal relationships and welcome mutually beneficial opportunities. Click here to learn more about the agreement.