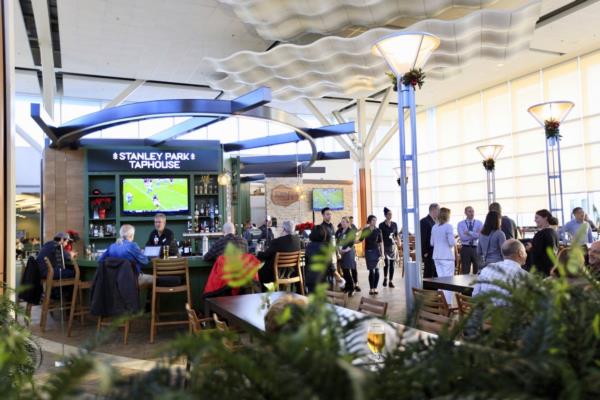 Stanley Park Taphouse is now open at YVR! This newly renovated dining room is located in the domestic terminal post-security near gate B14. Choose from starters, share plates and big salads if you're looking for a quick bite before heading off to your travels. The famous Braised Short Rib Burger is also available for all you meat-lovers. Don't forget to top it all off with a BC wine and a craft beer, served exclusively at YVR locations. For all our gluten-free travellers, you're in luck - this casual dining room offers an extensive menu to ensure your needs are satisfied.
The Stanley Park Brewing legacy dates back to 1897 when their namesake brewery was established in Stanley Park. In 2009, Stanley Park Brewing introduced a new generation of beer drinkers to this brand with the launch of Stanley Park 1897 Amber. Today, their beer portfolio offers our interpretation of some of the world's great beer styles which, like YVR, connects BC proudly to the world..
Find out more about Stanley Park Taphouse at YVR here.