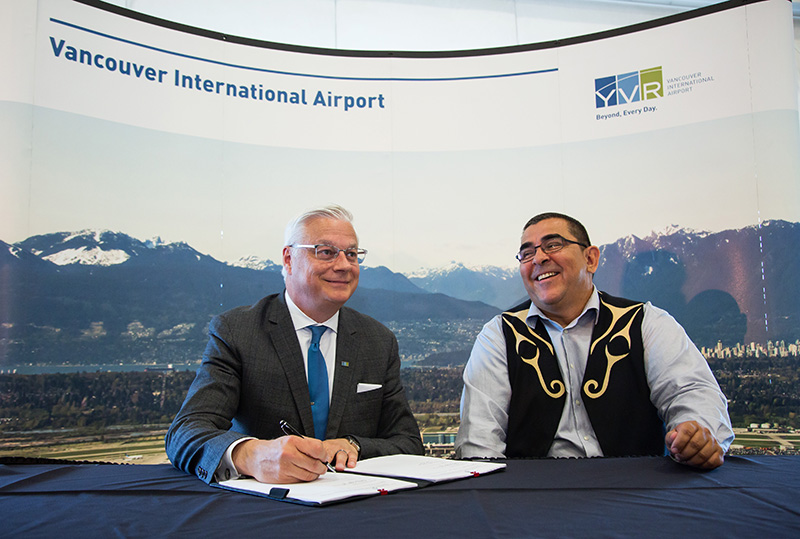 Craig Richmond (L) President and CEO of YVR Airport and Chief Wayne Sparrow of the Musqueam Indian Band sign the Musqueam Indian Band-YVR Airport Sustainability & Friendship Agreement joint announcement at YVR in Richmond, British Columbia on June 21, 2017.
A major step forward in the future of the airport and the community happened today as Musqueam Indian Band and YVR signed The Musqueam Indian Band - YVR Airport Sustainability & Friendship Agreement, a 30-year agreement based on friendship and respect to achieve a sustainable and mutually beneficial future for our community.
Elders, Musqueam Chief & Council, Board of Directors and business partners joined the celebration which included the official signing of the Agreement and traditional Musqueam songs at YVR followed by a feast, calling of witnesses and exchange of gifts at the Musqueam Cultural Pavilion.
Some of the details of the Agreement include a path of education to employment with a number of scholarships and new jobs, one per cent of annual revenue from YVR, identification and protection of archeological resources and support for ongoing operations and long-term development at the airport.
Vancouver International Airport and Musqueam Indian Band are located in the same community on land that is Musqueam traditional territory. Musqueam have historically played an integral role in many areas of YVR's business and operations, from noise management and environmental advisory to development planning and cultural engagement.
The Agreement is subject to completion of Musqueam's member consultation process before the end of July. Additional details about The Musqueam Indian Band - YVR Airport Sustainability & Friendship Agreement are outlined in a formal backgrounder and are available at www.yvr.ca.