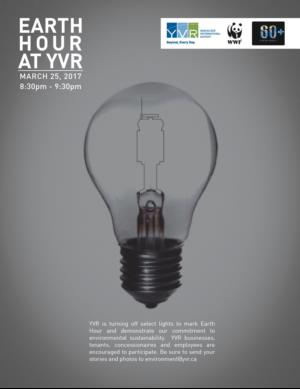 YVR is thrilled to once again participate in the worldwide Earth Hour event which encourages households and businesses to turn off their non-essential lighting for one hour to raise awareness about power consumption and climate change. YVR will join the movement by turning off select lights throughout the terminal to demonstrate our support for this global initiative and show our commitment to sustainability.
How is YVR reducing our environmental footprint?
YVR works year-round to find new and innovative ways to reduce our environmental footprint, working towards our goals set out in our Environmental Management Plan.
For example, did you know LEDs use 1/6th the amount of electricity that regular incandescent bulbs use? This past year, over 380 airfield lights were replaced with energy-efficient LEDs, helping us reduce GHG emissions.
In 2016, a water audit and conservation study was implemented, including the installation of washroom water meters to track usage, as well as a plan to replace toilets with water efficient ones.
To help YVR's Food & Beverage tenants decrease the amount of waste sent to the landfill, YVR started the Waste Wars competition, engaging our tenants to improve our waste diversion rate. We also installed a brand new in-house composter, which turns food into dirt in just 24 hours emissions.
As YVR shares Sea Island with a wildlife conservation area, preserving and enhancing ecosystem health is very important to the airport. This past May, YVR became the first airport in the world to be Salmon-Safe certified. This is a certification process that assesses land and water management practices to ensure water quality is protected and habitat is restored so that wild Pacific salmon can thrive.
These are just a few of the steps YVR has taken to address the environment. For more information about YVR's commitment to sustainability and a link to the Environmental Management Plan, visit: http://www.yvr.ca/en/about-yvr/environment
And don't forget, Earth Hour takes place this Saturday, March 25th from 8:30pm-9:30pm—show your support for our beautiful planet and switch off those lights!