As a community-based organization, YVR is committed to being a leader in sustainability. We incorporate sustainability into everything we do—from our push to be a leader in environmental management to our community investment program and our commitment to developing a world-class connecting hub. And Every year, we report on our activities at the Annual Public Meeting. This provides us with a key platform to showcase our many stories, which we group under our four pillars: social, economic, environment and governance.
But we don't just report on these pillars; we work towards them every day. For instance, since my post last month there have been several developments that demonstrate our ongoing commitment:
Social: BC's Top Employer. On March 22, YVR was named one of BC's Top Employers for the eleventh consecutive year! We are committed to developing a workforce that reflects the diversity of the communities in which we live and work. This recognition shows that we recognize the needs of our employees, our communities and our province.
Environment: Earth Hour. On March 25, YVR participated in the worldwide Earth Hour event. From 8:30pm to 9:30pm we switched off lights in key YVR locations, including the Graham Clark Atrium. We received great participation from our partners including the Fairmont Vancouver Airport, which once again hosted their popular candlelight dinner, as well as Plaza Premium Lounges, White Spot and Vino Volo.
Economic: Cathay Pacific's new A350-900. On March 28, we celebrated the arrival of Cathay Pacific's new Airbus A350-900 aircraft. Not only will this beautiful, innovative aircraft offer an exceptional experience for our passengers—it will also generate more revenue with increased frequency for the YVR to Hong Kong route, which translates to more economic and social benefits for our communities. The aircraft is also fuel-efficient and quiet—easier on the environment and our neighbours.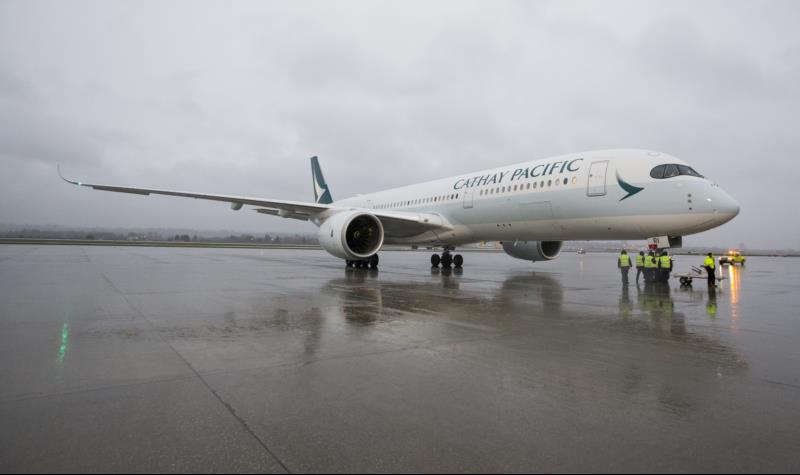 Governance: APM and Annual & Sustainability Report. We've spent the last month putting the finishing touches on YVR's 2016 Annual & Sustainability Report. This report demonstrates our year-in-review through the four pillars and it lays the foundation for our presentations at the APM. It demonstrates our commitment to transparency and accountability—reporting on our unique governance model, our business activities and much more.
Want to know more? I invite you to come see for yourself. On May 11 we will host the APM in YVR's East Concourse (International Building Terminal, Level 3), with registration starting at 3:00pm. We hope to see you there.