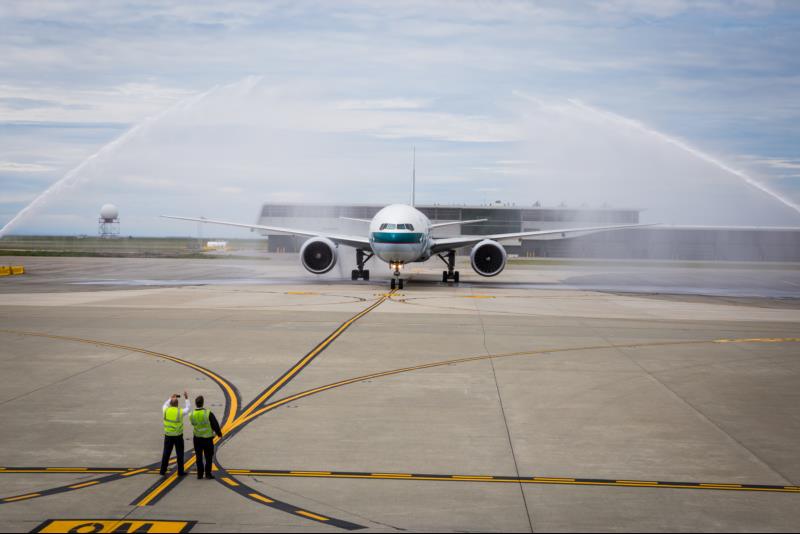 With over 23,000 aviation related jobs on Sea Island alone, you can easily see that it takes an entire community to ensure the airport runs safely and efficiently. From the airline check-in agents to our friends at NAV Canada, or the people who work diligently to get your bags to the planes and the screening agents who ensure everybody feels safe flying. We make up a community and a family that is hard to leave once it runs in your blood.
And while there are many jobs the industry couldn't do without, there is one that is near and dear to my heart, something I was proud to have done for many years with the Canadian Armed Forces – Being a pilot. Pilots are the people who guide us safely through the air and to our dream vacation destinations, visit far-off family or get us to our next business meetings. The world is a lot smaller because of the pilots that fly us around the planet, so here is general tip of the hat to you all.
There is one pilot in particular I want you all to meet, my pal, Craig "Curly" Halliwell. Curly and I met way back in 1983 when we were both stationed in Germany. We flew the Starfighter together in 439 Sabretooth Tiger squadron, and while our missions weren't generally classified, some of our most cherished memories will remain that way.
I got the tip off from another ex-Tiger (and Snowbird) Dan "Danno" Dempsey that on May 31, Curly would fly his final flight into YVR with Cathay Pacific and we wanted to give him a send-off he'd never forget. I also wanted to give you a glimpse of a man I am proud to call my friend, so our Comms asked him some questions about his life in the skies.

Q: Why did you decide to be a pilot?
A: I started in aviation through the Air Cadet program attaining my glider and Private pilot licenses through their scholarship program. I cannot even remember a time when I was not interested in aviation. I know my dad wished he could have been a pilot and I'm sure his interest sparked mine. I decided to join the Air Force after seeing a recruitment poster in downtown Vancouver while I was attending UBC.
Q: What is your favourite part about being a pilot?
A: I think after all these years of flying that my favourite part of the job was the satisfaction of successfully completing a difficult mission in the military or a complex flight in the airline industry. I also loved going 750 knots 200 feet above the trees in CF 104 Starfighter and pulling over 7 G in a Hornet!
Q: How did you meet Craig Richmond?
A: I was lucky enough to fly the Starfighter with Craig on 439 Squadron in Germany where we first met in 1983. Craig and I flew together and deployed several times all over Europe getting in all sorts of trouble like young junior fighter pilots do. I'm sure most of the really good stories are still highly classified!
Q: What is your fondest memory of your friendship with Craig Richmond?
A: Craig and I met Chuck Yeager once at an airshow in the UK and I know General Yeager was just as thrilled to meet Richmo and I. NOT! In all fairness, Yeager was trying to sell F-20 fighter jets to some country, not socialize with a couple of junior jet jockeys. My memory is a little fuzzy, but I remember a restaurant in Decimomannu, Italy and a firecracker incident.
Q: What is your favourite thing about YVR Airport?
A: My favourite part of YVR is the relaxed but professional atmosphere on the operational side of the airfield. YVR has been my home port for most of the last 23 years so for me it always feels like home especially after an 11 day around the world trip.
Q: What will you do in retirement?
A: In retirement I plan to sleep, fish, camp, hunt, ski, boat and then sleep some more in one time zone!
And so, at YVR we bid Curly farewell. The skies will be a little less friendly without you in them, but we congratulate you on a long and successful career and thank you for keeping passengers safely under your wing all those years.
...and Curly is a dot! Tiger, tiger!

Craig "Richmo" Richmond
P.S. Dead Bug