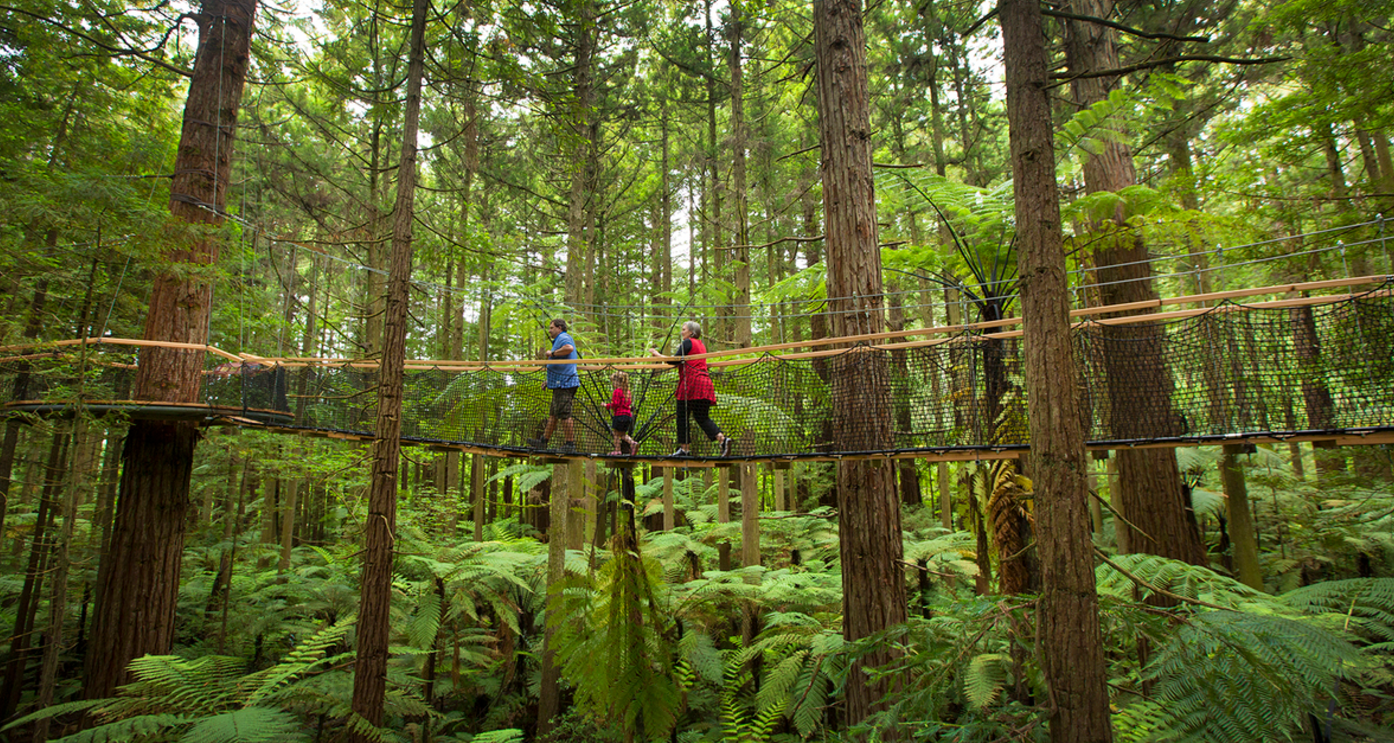 Photo Credit: Tourism New Zealand
In July I was lucky enough to check a dream trip off of my bucket list – New Zealand! During my trip I visited Rotorua and Auckland. Rotorua is amazing! It's well-known for its world-class mountain bike trails, geothermal hot spots, spectacular lakes, Māori culture and growing cuisine scene. I loved Auckland too. It's a melting pot of rich diversity. There are stunning views, fine food and wine and spectacular arts and events.
Here's a closer look my trip:
I flew with Air New Zealand which has had a non-stop between Vancouver and Auckland for the last 10 years. Air New Zealand connects international travellers with an extensive network of 21 destinations in New Zealand and 8 in Australia making domestic and international travel in the South Pacific a breeze. Their Premium Economy service is excellent with more seat space, reclining seats and an amenity kit. You're treated to high-quality cuisine paired with world class Kiwi wine. In Economy service, families can take advantage of their Skycouch program where a row of 3 seats together create a flexible space for whatever you want it to be - an area to relax and stretch out in, or for the kids to use as a play area. It's like having your very own couch on the plane. The Business Premier seat allows passengers to relax in complete comfort with wide leather armchairs and a separate ottoman footrest. When it's time to sleep, it converts to a fully lie-flat bed with a thick memory foam mattress, fluffy duvet and full-size pillows. It's the perfect place to sleep in-flight.
I flew Premium Economy on their 777-200. It took 13.5 hours from Vancouver but it was amazing - comfy seats, great food, lots of entertainment choices and an extremely friendly, accommodating crew.
DAY 1
My first stop was Rotorua where I took a Canopy Tour. This was a magical journey through untouched native New Zealand forest. 1.2 kms of forest suspended up to 22 meters high amongst the trees. It was a mixture of thrilling and wonderful as I made my way through a network of trails, tree platforms, ziplines and swing bridges. Next I did a Foris (Latin for 'outdoors') Eco-tour. This was a 2 hour bush walk in the massive (up to 60m tall) 1000 year old trees of Whirinaki 'dinosaur forest'.
My next stop was Rotorua's iconic Polynesian Spa which is among the world's top 10 thermal, medical and natural spas. There are 28 hot pools - 14 of which have spectacular views over Lake Rotorua. I had a mud purifying body wrap while I was there. Heaven!
The last adventure of the day was the Redwoods Treewalk which is the world's longest suspended walkway. The walk can be done day or night and consists of 23 elevated swing-bridges and living platforms 12m in the air.
DAY 2
The next day started at 8:15am with a trip to Waiotapu Thermal Wonderland and Waimangu Volcanic Valley. I got to see New Zealand's largest boiling mud lake and the famed Lady Knox Geyser which erupts daily at 10:15am to heights of 20m. I also saw a variety of colorful volcanic craters, hot streams, sizzling hot pools, boiling hot springs, hissing fumeroles, vividly colored silica terraces, steaming cliffs, hot crater lakes, native rainforest and pretty birds.
Next, I took a gondola ride up Mt. Ngongotaha at Skyline Rotorua where I had a fantastic lunch at the Stratosphare Skyline Restaurant with its 180 degree view of the Rotorua region. After this I did a wine tasting at Volcanic Hills also at Skyline Rotorua. Next I did OGO Rotorua which is basically riding down a hill in a massive inflatable plastic ball. As crazy as this sounds - it was really fun!
My day ended at Te Puia with a tour of the natural attractions including the world famous Pohutu geyser which blast 100ft high every 1.5 hours. After the tour I went to an evening show called Te Po (the night). It included a traditional Maori welcome and cultural performance. The show was followed by a delicious Hangi (earth oven) dinner.
DAY 3
The next day I flew to Auckland where I headed to Queen Street. There are lots of great shops and restaurants here. I then wandered around the historic Britomart precinct in downtown Auckland (a few minutes walk from Queen Street) which spans several blocks of beautifully preserved heritage buildings and cutting-edge architecture. Lots of fashion, beauty and specialty boutiques in this area.
Then I headed to the Ferry Terminal and crossed to Rangitoto Island for a Volcanic Tour. Rangitoto Island is the youngest volcanic island in the area - the last eruption was just 600 years ago. I took a 4WD road-train up to the base of the summit then climbed to the summit along a wooden boardwalk with about 350 steps to the very top. Along the way we passed through rugged lava crops and native bush. The panoramic view of Auckland from the top was amazing!
DAY 4
My final day before I flew home I did two incredible activities. First I did the Auckland Bridge Climb where you scale the bridge on custom walkways giving 360 degree views of Auckland sights at the summit. It was a tad scary but worth it!
Finally - I still can't believe I did this - the SkyJump off of Auckland's Sky Tower. It's a 630 ft (192 m) drop at 85km/hour. It was probably the scariest thing I have every done but I am so glad I did!
So there are all the details of my whirlwind trip to New Zealand. I highly recommend you book an Air New Zealand flight and see this amazing destination for yourself. Happy travels!
About Claire Newell
Claire Newell is a travel expert, author and a recognized authority on the international travel industry. She is the founder and owner of Travel Best Bets, one of the largest agencies in Canada and the best-selling author of Travel Best Bets – An Insider's Guide to Taking Your Best Trips, Ever. She has appeared in top broadcast and print media throughout U.S. and Canada over the last 22 years, including Canada's Global TV network, NBC's Today Show, Fox & Friends, CNN, and others. Claire also writes regularly for print and online publications including Readers' Digest, Today's Parent and more.