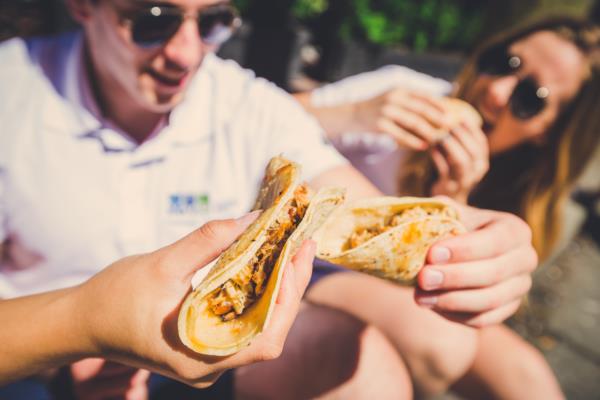 As we celebrate Canada's 150 birthday, it is festivities such as Carnaval Del Sol that truly embody the significance of multiculturalism in Canada. There was a variety of cultures being represented at the festival but in the end, it all tied together to create a strong connection and sense of community. The extensive list of activities and entertainment had our Flight Crew dancing and grinning, and we have compiled a list of our top 3 experiences from the 2017 Carnaval Del Sol event.
Zumba: Between the highly-energetic instructors and uplifting music, we couldn't resist joining in on the Zumba dance mob at the main stage, which grew and grew as each song played. After busting out our best Soca, Salsa, Samba, and Mambo moves, we got into the groove of it and were blending right in with the pros. It took no more than one song before our Flight Crew members were reaching for water bottles and wiping the sweat off our foreheads. But we weren't the only ones. Looking out into the crowd, it was clear to see that this fitness charged dance had everyone up on their feet. Participating in Zumba had us feeling like we were right in the heart of Columbia.
Food: No festival is complete without a variety of food trucks and Carnaval Del Sol certainly did not disappoint. The most popular zone of the event was by far the food plaza which consisted of over 25 vendors representing over 9 different countries. From the fresh Piña colada served in a pineapple to the taco trucks with handmade guacamole, we were living in foodie heaven when lunch time rolled around. Through the vibrant colours, aromas and flavours, it was easy to see the importance of food in Latin American culture and the passion that each vendor had in creating their unique dishes.
Local Vendors: From one of a kind Piñatas to natural wood wine holders, the vendors at Carnaval Del Sol had something for everyone. Walking through the fair grounds and admiring each tent we passed gave a glimpse of the pure talent these vendors had in creating their unique pieces. The artwork was marvelous, the food samples were mouth-watering and the clothing was so exceptional that you couldn't help but stop at every booth and admire them all. Apart from the tangible pieces at these booths, what stood out above all was the sense of pride that these vendors had for not only their art but for their culture.
Carnaval Del Sol was full of energy, excitement and tacos and could not have done a better job at creating a sense of community amongst so many different cultures. From the impromptu Zumba lessons, all the way to the freshly made Pina Coladas, a new sense of appreciation for Latin American culture will no doubt resonate with all who attended.
Don't miss the series! Find out where the Flight Crew flew to last time here.