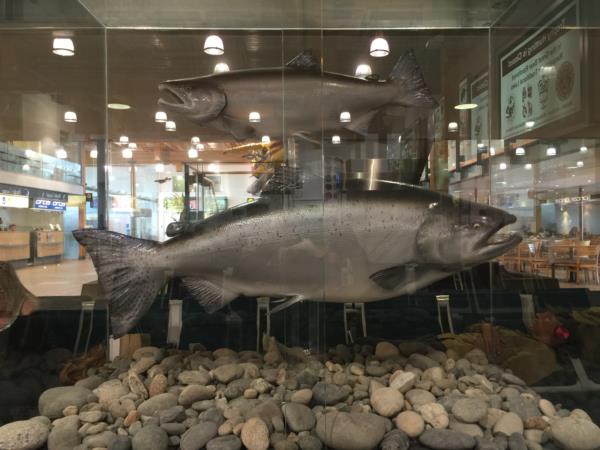 Most people are familiar with the Domestic, International and Trans-Border terminals but fewer people are aware of everything YVR's South Terminal has to offer. For over 86 years, the South Terminal has been connecting travellers from around the world to many of British Columbia's most awe-inspiring destinations, from Prince George and Bella Coola to Williams Lake and the Gulf Islands. The South Terminal is truly a regional hub for all of British Columbia.
The South Terminal is of particular interest for anglers, as it provides a unique opportunity to reach some of the world's most pristine fishing grounds and luxurious angling resorts located in the far reaches of our beautiful province. Starting in late May and continuing through to September of last year, more than 11,000 fishermen and women passed through the South Terminal to catch chartered flights to resorts and lodges all along BC's Coast. Last year's anglers included star Canuck players both past and present like Willie Mitchell, Brendan Morrison and the Sedin twins. NHL Hall of Fame members Frank Mahovlich and Ken Dryden have also been spotted in previous fishing seasons. Corporate executives and prominent public figures like Rick Hansen, who hosts an annual fishing derby at the Langara Fishing Lodge to raise money for the Rick Hansen Foundation accessibility programs and for the Pacific Salmon Foundation, also frequently pass through the South Terminal on their way to some of the world's greatest salmon fishing grounds.
In case you were interested in keeping your lucky catch, fish processing and packaging services are available at the South Terminal, as well as freezer facilities for participating lodges. For those anglers who live outside the Lower Mainland, your fish can be processed, from filleting to smoking and candying, and then shipped to your home while you continue on your adventures.
So whether you're a novice fisherman or an experienced angler, consider starting your next great fishing adventure at YVR's South Terminal as a guest of some of the globe's finest salmon fishing lodges. A world of untouched wilderness and unrivaled fishing awaits you.