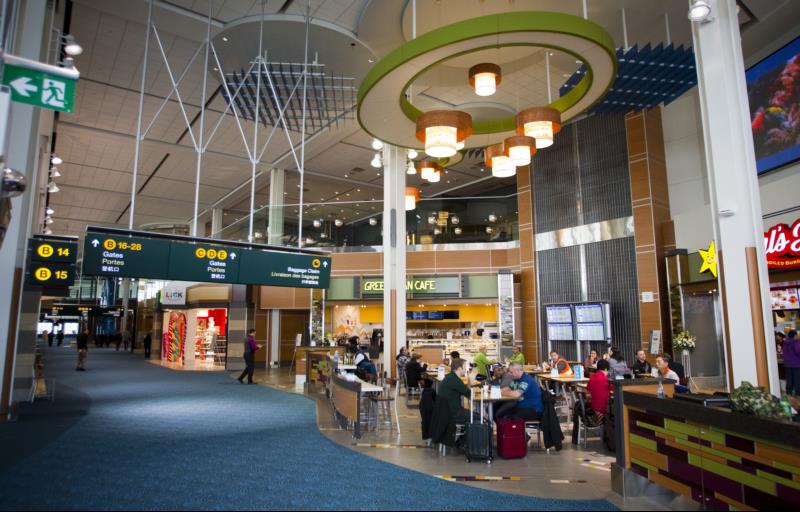 The Vancouver Regional Construction Awards (VRCA) recently held its annual Awards of Excellence and several contractors working on YVR projects were recognized in multiple categories.
The A-B Connector project won a Silver Award for Maxwell Floors LTD. For Sub-trades up to $1 million, a Silver Award for Ledcor for General Contracts over $45 Million and a Gold Award for Gallagher Bros. for Sub-trades over $8 million. The $213 million expansion was the first major infrastructure project completed as part of YVR's 10-year gateway strategy announced in 2012 to keep YVR competitive and an economic generator for B.C. The A-B Connector saw multiple partners all working together to improve passenger navigation and flow, increase gate capacity and holdroom space, create new security and safety enhancements and complete seismic upgrades to ensure a more comfortable and efficient experience..
The McArthurGlen Designer Outlet Vancouver Airport won a Silver Award for Horizon Landscape Contractors for Sub-trades between $1 and $3 million. Opening its doors last year to record numbers of shoppers, the Designer Outlet Centre has quickly become a destination unto itself, drawing shoppers from all over the Lower Mainland and across the border as well as travelers looking for a fun activity on a layover. The shopping hub also recently snagged another award for Best New Development at the 2016 ICSC Canadian Shopping Centre Awards.
The Expedited Transfer Facility (ETF2) won a Silver Award for Whitemud Ironworks Limited for Sub-trades between $1 and $3 million and a Gold Award for PCL Constructors Westcoast Inc. for General Contracts up to $15 million. The ETF projects are designed to minimize passenger transfer times by creating new sorting systems, expanding baggage halls and introduces new high-level control system and baggage scanning alongside a high-speed baggage backbone that connects the existing system, further speeding things up.
A massive thanks and congratulations to all our partners for their hard work on these important projects. Great people doing great things and building a better airport for B.C.