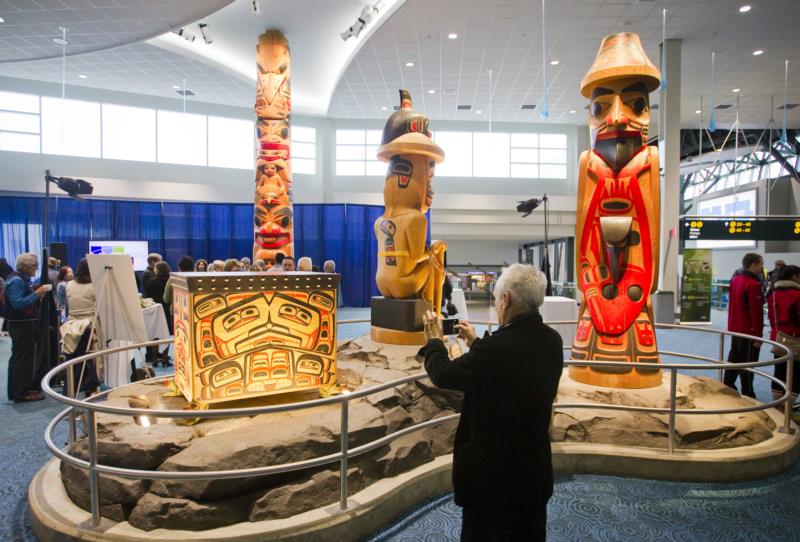 If you've travelled out of YVR's Domestic Terminal in the past month or so, you may have seen them. And if you haven't, you should definitely make a point to check them out next time you fly through...
New stunning cedar carvings have been installed at the Link Rotunda area of YVR's Domestic Terminal, after security near C Pier departure gates. Carved by acclaimed artist Reg Davidson, Raven Stealing the Beaver Lake, The Blind Halibut Fisherman and Raven with a Broken Beak, recount Haida myths in which Raven is featured as both beneficent cultural hero and prank-playing Trickster.
Art is an important part of how we create a unique sense of place at YVR that represents the cultural heritage, natural beauty and iconic experiences that embody British Columbia. We are so proud to showcase Reg's stunning cedar works and highlight First Nations culture to the millions of passengers who travel through YVR every year.
YVR houses one of the largest private collections of BC First Nations art on public display as a means to make the airport distinctive, enjoyable and memorable within the global network of aviation hubs. Revered for its celebration of Indigenous art, YVR's collection focuses on themes of land, sea and sky.
YVR's art and their thematic stories are explored as part of a new art book – A Sense of Place: Art at Vancouver International Airport – which is available for purchase at local retailers, including at Lattimer Gallery YVR, located at the International Terminal Building, Departures Level 3.