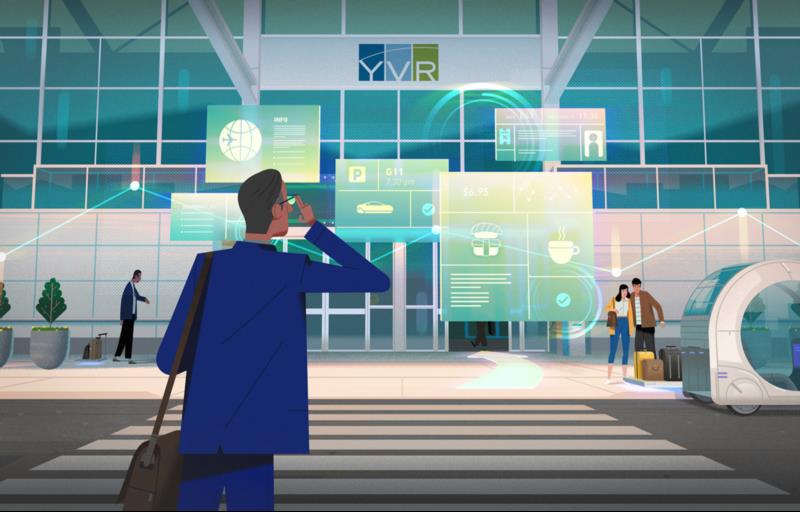 YVR Airport: Thursday May 14, 2037 at 08:45
This is Pascal's first visit to Vancouver International Airport. As he wanders inside, his augmented reality glasses alert him to watch the Welcome to YVR Airport story. He accepts, prompting a YVR Storyteller to appear.
The Storyteller – one of five hundred, personalized, holographic customer service representatives, helps travellers with way-finding, gate details and information on airport amenities. The Storyteller accompanies Pascal through the main concourse, detailing the history of YVR and describing the unique journey he is about to experience.
"Vancouver Airport Authority welcomes you to Vancouver International Airport, or YVR. Here we work as anactive member of the community to build a sustainable, vibrant, innovative and diverse airport. We also aim todeliver hyper-efficiency with friendly, fast and reliable service for airlines that connect you to friends, family,business partners and associates in Asia, the Americas and beyond."
As Pascal proceeds through the building he's struck by its ambience, its forest-fresh air and the fusion of clean, modern 21st century architecture with stunning First Nations art – a visual reminder to travellers of the city's origins and history.
The Storyteller continues – "We listen to your needs, and together with local transport operators, get you to your destination as efficiently as possible. This means reduced congestion, flexible transport choices and moretime for you to enjoy your journey.
We are proud of the fact that revenue we earn is reinvested back into our airport, it plays a part in making usone of the best airports in the world.
In addition, we create value for Greater Vancouver and all British Columbians from the available landon beautiful Sea Island. We achieve this by offering automated stacked parking for longer stays, quick transportation connections to downtown Vancouver and other key regional destinations, a world-class retailpark and the creation of the YVR Business District - home to the world's best aeronautical startups. Thesebusinesses focus on the study, design and manufacturing of air flight-capable machines and supporting systems.
Upon entering the terminal building you will experience fast track bag check-in, you will pass through state-ofthe-art security with ease, and beyond that – enjoy a cosmopolitan shopping and dining experience to rival anyaround the world.
YVR strives to be fully sustainable and environmentally efficient. We're achieving this through the harnessingof rainwater and solar energy. Our revolutionary vertical farm delivers fresh vegetables daily, while our awardwinningground operations carefully manage the environment to reduce noise, taxiing times, queues andgreenhouse gases. We strive for zero carbon emissions and zero waste each day of the year.
To ensure travellers have the best experience, we have deployed sensors to capture and transmit data to helpwith optimization, artificial intelligence and automated control systems.We thank you for choosing to travel through YVR. We'd love to hear how we could make your airport experienceeven richer. In the meantime, have a great trip."
...
For more information on YVR 2037 visit yvr2037.ca, and join the conversation at our YVR 2037 Open House on Wednesday, October 12, 2016. Come and speak to the YVR 2037 Master Plan project team, view the display boards, and provide your feedback about the future of our airport.
Location: Vancouver International Airport, Domestic Terminal Building, Observation Deck
Date: Wednesday, October 12, 2016
Time: 4p.m. to 8p.m. (Drop In)
Pre-registration is not required for this event.