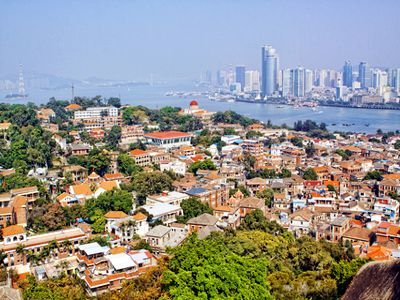 Are you looking to dive into a unique cultural experience while also enjoying picturesque beaches and European architecture on your next vacation? Look no further than Xiamen.This gem of a city – nestled along China's southeastern coast – is one of the country's lesser-known destinations among international jetsetters, but it's sure to steal some limelight now that Xiamen Airlines and YVR have launched three times weekly, non-stop flights there starting July 25. Travellers are also able to visit Xiamen for up to 72 hours without a Chinese Visa on your way to Asia.
Millions visit the bustling business and tourism hubs of Beijing, Shanghai and Hong Kong every year. Each boasts a different history and culture, but they're not the only places worth checking out in China. In fact, the world's most populous nation has plenty to offer if you're willing to venture even slightly off the beaten path.
With more than 600 cities – many with millions of residents – there's no shortage of experiences for the adventurous. Start by ticking Xiamen off your travel bucket list – especially since it's so easy to get to from Vancouver. The city's name means "door to the house", which is fitting because it will inspire you to see what else China has to offer.
With a subtropical climate and an annual average temperature of 21 degrees Celsius, Xiamen is an excellent year-round destination. If you prefer cooler temperatures (around 12C) visit in February and if you enjoy soaking up the sun, hop on a flight in July or August when temperatures hover around 30C.
Wander down alleys lined with red-roofed colonial buildings, cycle along the coast for spectacular sea views, explore the local cuisine and much more. Just don't miss the main attractions. They really showcase Xiamen's rich and eclectic history.
Gulangyu Island
Also called the piano island – for its sheer number of pianos and love of the instrument – Gulangyu is one of Xiamen's top attractions. Hop on a ferry from the centre of Xiamen and you'll be there in five minutes. In the early 20th century the island was home to 13 foreign consulates, so it's adorned with architecture from around the globe. Tourists can wander through European-style boutiques, catch a traditional puppet show, visit Asia's largest piano museum and taste-test street food on Longtou Road. Fresh fruit juice, grilled seafood, fish balls, oyster pancakes, ice cream and sand worm jelly (a famous local treat) are on the menu of must-try snacks. No vehicles are allowed on Gulangyu Island, so wear comfortable shoes and expect a peaceful, slow-paced experience. Or, base your Xiamen vacation out of Gulangyu and stay at one of the island's hotels or guesthouses.
Huandao Lu
This road winds along Xiamen's coastline for more than 30 kilometres. But the most popular section – called the Island Ring Road – stretches from Xiamen University to the Xiamen International Conference and Exhibition Center. Renting a bike is the best way to experience sandy beaches, greenbelts, caves and local cuisine along Huandao Lu. However, those who prefer to walk can stroll along the boardwalk or take off their shoes and explore the seemingly endless sandy beaches. Hulishan Fortress This fortress was built in 1894 to protect Xiamen from invasion and is home to more than 50 iron cannons. Head to this attraction early if you want to catch the welcome ceremony that happens daily at 8:30am. Watch army training performances at 10am and 4pm and wander through the Rongguang Museum, which includes cannon, sword and gun displays. While the fortress is a main Xiamen attraction on its own, the views surrounding it are just as famous. From the top of the fortress, you can look down on the city, as well as Dadan Island and Erdan Island – both located a stone's throw from the coast in the Taiwan Strait. With the help of telescopes, the view is spectacular.
Wanshi Botanical Garden
Xiamen is known for its natural beauty and there's no better place in the city to enjoy the serenity of nature than at Wanshi Botanical Garden. More than 6,000 tropical and subtropical ornamental plants can be found in this lush oasis. Spend an afternoon wandering through almost 30 different gardens. Make sure to spot the uniquely shaped stones scattered through Wanshi, which means "ten thousand stones". And don't miss the redwood tree planted by former US president Richard Nixon.
Other Must-See Attractions and Activities
There's so much to see and do in Xiamen that it's hard to list everything in one post. Visit the Oversea Chinese Museum and the Nanputuo Temple or wander through the Xiamen University campus. And consider spending a day getting lost in the city's winding streets. Wherever you end up, you're sure to have an adventure and meet interesting people along the way.
About Claire Newell
Claire Newell is a travel expert, author and a recognized authority on the international travel industry. She is the founder and owner of Travel Best Bets, one of the largest agencies in Canada and the best-selling author of Travel Best Bets – An Insider's Guide to Taking Your Best Trips, Ever. She has appeared in top broadcast and print media throughout U.S. and Canada over the last 22 years, including Canada's Global TV network, NBC's Today Show, Fox & Friends, CNN, and others. Claire also writes regularly for print and online publications including Readers' Digest, Today's Parent and more.