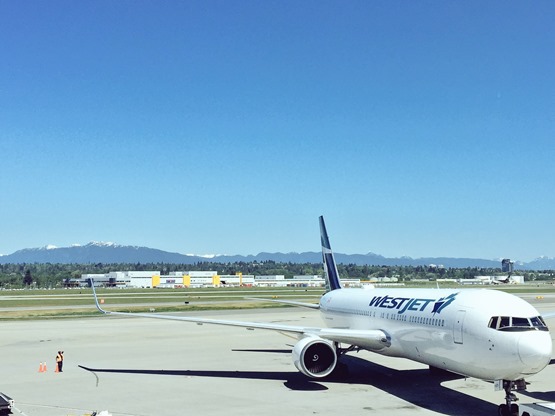 YVR and WestJet recently celebrated the inaugural flight of the airline's new service between YVR and London Gatwick (LGW). The non-stop service will operate six times per week throughout the summer season, and is the first time WestJet is offering service to Europe from YVR.
WestJet has been operating at YVR since 1996, and offers 28 non-stop routes with more than 75 daily flights operating out of Vancouver International Airport.
WestJet's Vancouver-London Gatwick service will create 140 new local jobs in the transportation and tourism sectors, $5.2 million in wages and approximately $8.5 million in Gross Domestic Product (GDP) for the province of British Columbia.
WestJet will fly their Boeing 767-300 wide-body aircraft, complete with a signature new maple leaf-themed tail on the route. The aircraft offers seats for 262 guests, including a Plus cabin with premium seats for 24. Onboard, guests will also enjoy WestJet Connect, the airline's new inflight entertainment and wireless connectivity system.
London Gatwick is the UK's second largest airport, taking more than 40 million passengers to 200 destinations every year. The airport has the fastest transport links into the centre of London and the financial district plus great connectivity to elsewhere in the UK, allowing passengers to get to wherever they need to go direct from the airport.