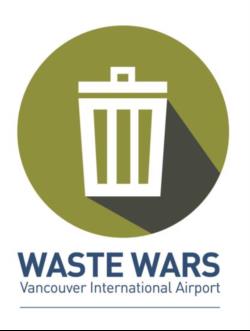 The YVR Environment team laid waste to the competition at the Airports Council International - North America Environmental Achievement Awards when they took home the top prize in the Outreach, Education and Community Involvement Category for our Waste Wars program.
Waste Wars saw YVR food and beverage tenants compete against one another to see who could properly dispose of the most waste between July 13, 2015 until August 31, 2015.
From the award announcements:
"Vancouver Airport Authority won the outreach award for their "Waste Wars" project, designed to increase composting from airport food and beverage tenants while reducing overall solid waste. This project involved a robust airport tenant training and engagement program... This project has contributed towards the airport's commitment of 50% waste diversion from landfills by 2020."
Thanks to the teams' efforts and strong participation from partners in programs such as Waste Wars, the month of September had a 52% diversion rate, the best diversion rate for 2015. And during the four busiest months of 2015, YVR diverted more than 50% of waste from landfill - which is line with YVR's Environmental Management Plan target for 2020. Overall, YVR managed to go from a 36% diversion rate in 2014 to a 46% diversion rate in 2015.
The award is a major recognition and speaks to the innovative approach we've taken towards reaching ambitious sustainability goals by 2020. The program was a huge success with 100 per cent participation rate from vendors and as you can see from the description above, tremendous results.
Congratulations to Fortune Wok on winning Waste Wars, Vino Volo on their second place finish and A&W for placing third.