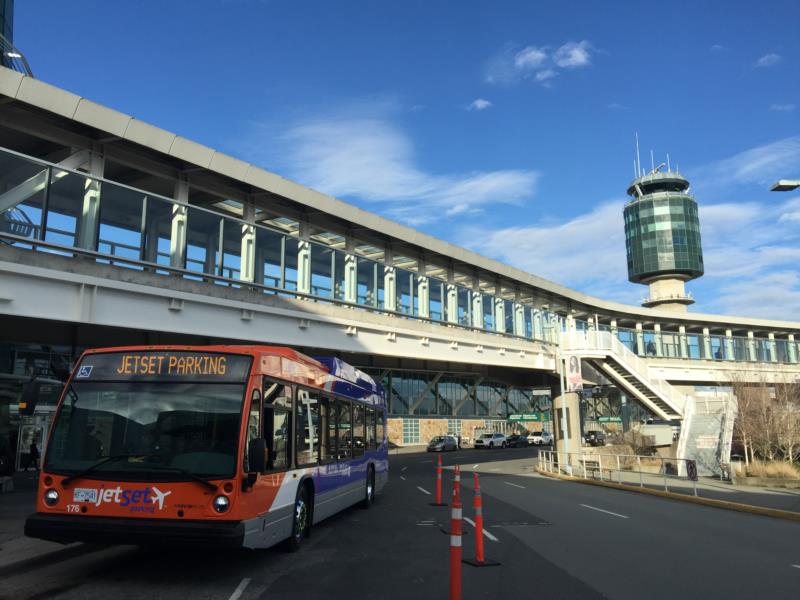 Orange and purple is the new green! YVR became the first airport in Canada to introduce hybrid buses when we recently unveiled a new fleet for our jetSet parking product. The new vehicles have loads of features that make them more sustainable, not to mention more accessible and safer for our passengers. They also look pretty snazzy!
Some key features:
Wider doors and Lift-U ramp system improves accessibility for passengers using a wheelchair.
The bus kneels to provide easier onboarding.
High-mounted engine reduces curbside noise.
Integrated cooling system improves performance and fuel economy.
Fiberglass shell requires no paint, reducing VOC (Volatile Organic Compound) emissions.
All wheel disc brakes improve braking distance and stability for maximum safety.
Uses 30% less fuel than old buses.
And the list goes on! These Canadian-made beauties will get plenty of use as they safely transport passengers from the terminal to their vehicle and will play a big part in YVR reaching our target of reducing greenhouse gas emissions by 33% from 2012 levels by 2020 as part of our
Environmental Management Plan
. The new fleet is another example of YVR providing the latest and greatest equipment for our passengers as we remain committed to using innovation to drive sustainability.