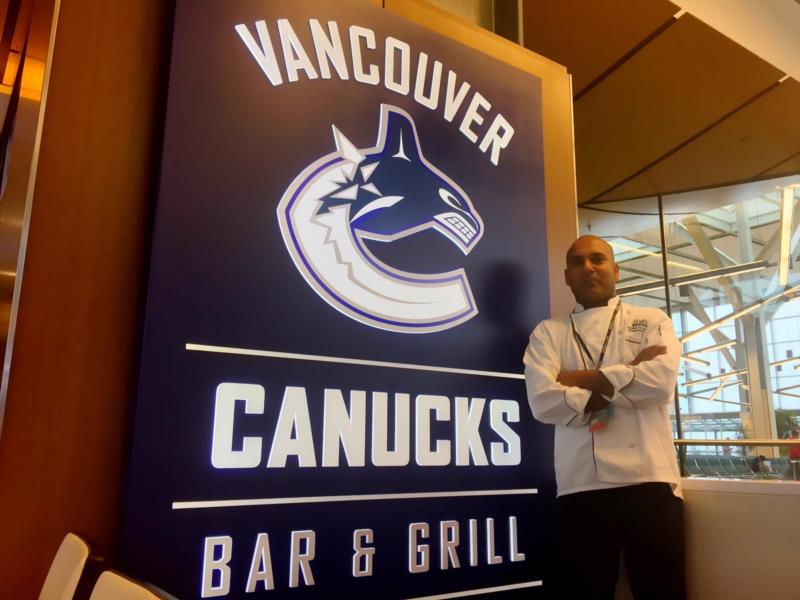 You can hear the passion Ramesh has for cooking as soon as he starts talking about food, explaining why he uses fresh, never-frozen ingredients and makes all the sauces in house daily at the Canucks Bar and Grill at YVR. Vancouver by way of India and Sri Lanka, Ramesh Thangaraja is a classically trained chef who has plied his trade at some of the best restaurants in the city including Bridges, Joe Fortes, Lift and CHOP before landing in the Canucks Bar and Grill operated by HMShost in US Departures. With a dedication to delivering the highest quality dishes to travellers and setting a new standard for airport fare, Ramesh goes beyond, every day to ensure that first forkful, that first beverage of your long-awaited vacation is everything you want it to be and more.
How did you get in to cooking?
My father died when I was seven and my mum, she went to work so we all had to take turns. First my sister would cook, then I started helping. Then I started to read books about cooking and wanted to learn, and I made many mistakes, but I wanted to learn more. So I started working in kitchens and then I went to cooking school where I became a top student. My mum taught me a lot, but at school I learned so much. The one thing my mum taught me that I always remember is "love your job, and your job will love you." And that's how it became my passion. I never get bored of cooking.
What do you like about working at YVR?
I love the scenery, and the views are spectacular at YVR. Every day I see different people travelling and their happy faces make me happy to work at the best airport in the world. Every day is different.
Where does your inspiration to create wonderful food come from?
My creativity comes from working with different local Chefs. I am inspired the most when a guest leaves happy after having a meal at Canucks. This is a Chef's dream come true, to see a satisfied guest.
What makes Canucks Bar & Grill special?
You want every thing fresh and The Canucks bar & grill is all about the experience. I am proud to work for a company like HMShost, who is a world leader in operating food & beverage at airports. We continuously focus on menu development and our customer service. I believe we created a well thought out menu which features an irresistible selection of signature dishes and we only use high quality, fresh ingredients. We have an experienced Management team and staff who welcome each of our guests to enjoy a great meal in a comfortable, friendly setting.
Also, all the chefs here go and touch the tables and look the customer in the eye. This makes sure they are confident in the food they cook and proud of their work. It makes them better chefs.
What do you recommend from the menu at Canucks Bar and Grill?
I am proud of every offering on the menu, but always recommend starting with our Korean spring rolls (picture below), made to order, served on crisp butter lettuce cups and a great Thai chilli sauce.
Next time you fly out of YVR to the United States, stop by the Canucks Bar and Grill and sample the fresh food made with the greatest care by Ramesh and his team. Juicy burgers, locally sourced ingredients and hand-made sauces set a new standard, and after tasting Ramesh's culinary creations you'll be making a return flight to the restaurant on your next trip through.