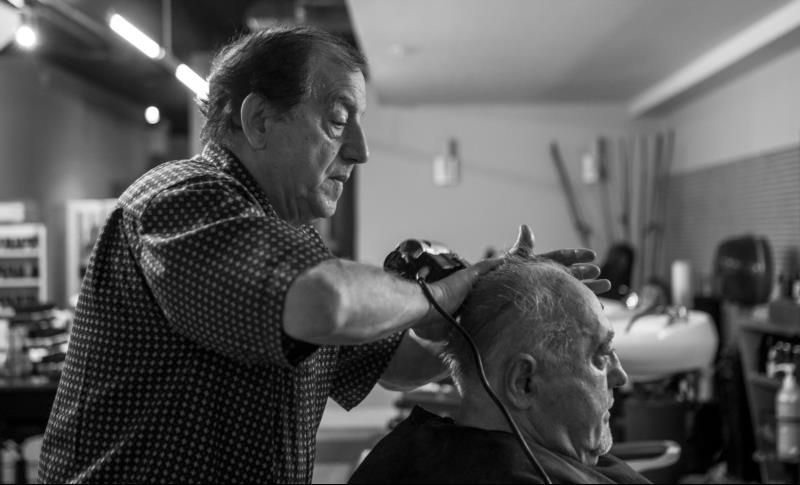 The oldest parts of our domestic terminal date back to 1968. And if walls could talk – oh, the stories they could tell! Our terminal has been graced by domestic and foreign dignitaries, world famous celebrities, travellers and YVR staff who've walked the ever-expanding building. Walls can't talk, but if there was one thing at YVR that could tell those stories. Well not a thing, per se, but a person, it would be our in-house barber, Franco Ingenito.
An Italian immigrant, Franco first sharpened his razor in 1969 and has been cutting hair at the airport for 46 years. During that time, he's styled everything from crewcuts to fauxhawks to man buns. In that time he's served hockey great Jean Beliveau; former Minister of Foreign Affairs, David Emerson, and course; countless airport employees and travellers.
Regular customer Richard Bannister, a regional manager with CATSA, has been visiting Franco since 1999. Richard says he goes to Franco because he represents the right way of doing things and comments on his old-time practices, stability and continuity.
There was a steady stream of people through the salon on Friday. But there usually is – Franco sees up to 25 customers each day. But the hearty handshakes and best wishes were different, for Friday was these customers last visit with Franco – he was retiring after more than 46 years of service.
"He's a very nice person and a very strong worker," said Franco's colleague, Belam. "People admire him. He's more than a barber – there's a relationship there. I'll miss his company and his energy."
From beehives to buzz cuts to bob cuts and balayage, Franco has seen countless hair styles come and go over the course of his career. And with those hair styles, and the passage of time he's also seen millions of passengers pass through YVR and served as a great ambassador for YVR, for Vancouver and for Canada. If these walls could talk, they would say, "thank you, Franco".