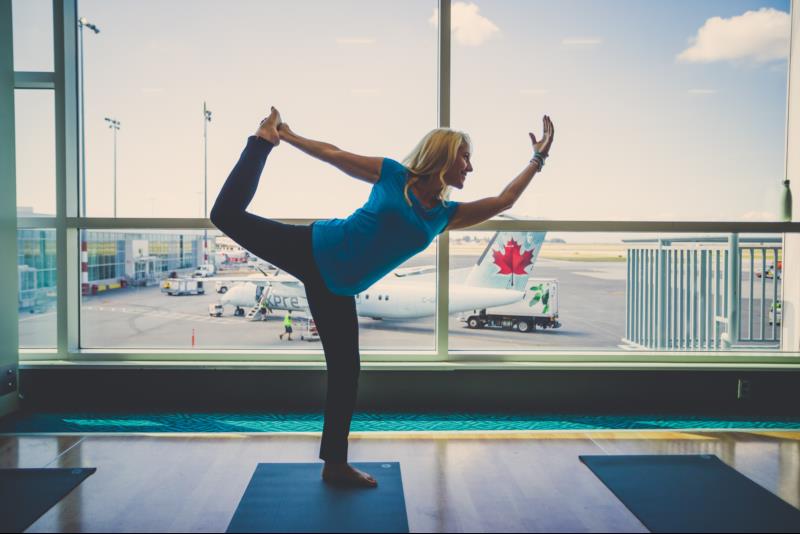 Stretch out before you take off! YVR and YYoga are launching a pilot program this summer to test a yoga space for travellers. The program, [email protected], will offer departing passengers a designated space free of charge to engage in a self-guided yoga practice prior to boarding.
[email protected] is offered as part of YVR Take-Off Fridays, the airport's popular summer event series that offers music, entertainment and family-friendly activities in the terminal. The yoga program will be offered each Friday between July 15 and August 26 from 10 a.m. to 2 p.m. It will be open to any passenger departing to a Canadian destination. It is located after security in Domestic Terminal C-Pier, across from Gate 46.
The yoga pilot program is offered through a partnership between YVR and YYoga, Canada's leading yoga and wellness company. Passengers can use the space to practice their own yoga flow, meditation or simple stretching. A YYoga instructor will be on hand to welcome passengers, answer questions and suggest poses and stretches that are particularly beneficial during travel. Pre-registration is not required and mats are provided by YYoga.
Adding this tranquil yoga space can help passengers feel relaxed and centered and help them move to their next destination in a refreshed, calm way.
The YVR Take-Off Fridays event series is back for a seventh year. The program will run from July 8 to August 26 between 9 a.m. and 3 p.m. To see the full weekly schedule visit www.yvr.ca/takeofffridays.