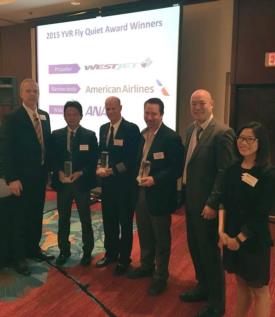 The Fly Quiet Awards awards are designed to raise awareness of noise issues within the aviation community, and are presented to acknowledge our airline partners that demonstrate good noise management practices at YVR. Winners are selected based on noise measurements collected by our Aircraft Noise & Operations Monitoring System and being on good standing with the YVR Noise Abatement Procedures. The awards are presented in three different aircraft categories: propeller aircraft; narrow-body aircraft; and wide-body aircraft.
We congratulate the following winners of the 11th annual YVR Fly Quiet Awards:
WestJet Encore

(Propeller Aircraft)

American Airlines

(Narrow-body Jet Aircraft)

All Nippon Airways

(Wide-body Jet Aircraft)
Vancouver Airport Authority is committed to managing airport noise, while balancing the community's need for safe, convenient 24-hour air travel with enjoyable urban living. For more information on YVR's noise management program, please visit www.yvr.ca.