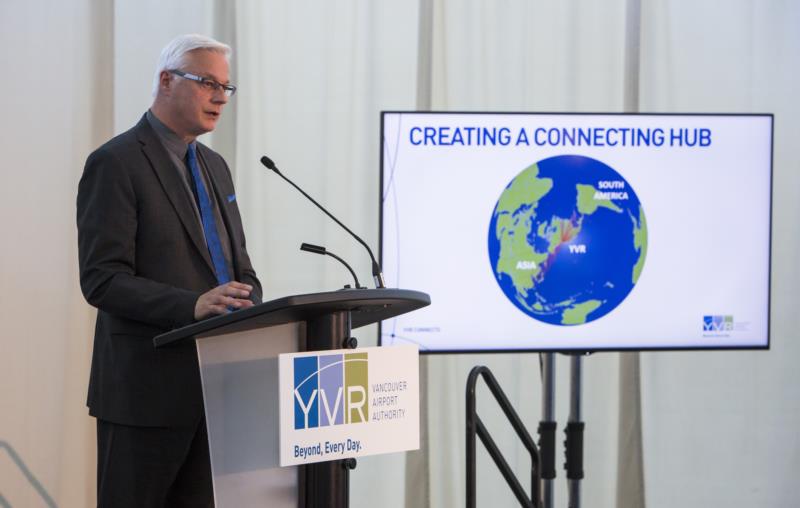 Every landing and takeoff at YVR is the result of a coordinated effort from our volunteers, employees and partners. This team works hard every day to ensure that YVR runs smoothly and remains a top airport. And for them—time flies.
While it's essential that we constantly look to the future to prepare for opportunities and challenges, it's also important that we occasionally step back and look at what has built our strong foundation. This is one of the key take-aways from YVR's Annual Public Meeting, which we hosted on May 12.
At the meeting, we discussed the many activities and efforts that have propelled us towards our goal of 25 million passengers by 2020. We provided a brief snapshot on YVR's 2015 operational, community and environmental activities through presentations from our Board, myself and members of our executive and non-executive teams. And we presented through the lens of YVR's new Sustainability Report, a revamped, inter-department effort that demonstrates our commitment to improving our reporting through increased transparency and information.
I was very pleased to see the positive reception to our new report and the strong turnout at our APM. I was also very impressed to hear about all of our recent accomplishments: from the opening of the A-B Connector in early 2015 to our long list of new airlines and destinations and our 20 millionth passenger in December. What a year!
We are committed to building an airport that BC can be proud of. And while I am definitely proud of our team, it was very encouraging to see this reflected in the APM audience. However, we didn't get off without some challenges: our audience provided some great questions, in person and through social media, focused on topics such as terminal expansion, fees, and the sale of our share in Vantage Airport Group.
While myself and the YVR team appreciated all the questions and comments, I want to add that we are always available to chat. As a community-based organization, we are focused on serving BC. This means that if you have any questions about YVR please don't hesitate to reach out. As our APM demonstrated, we are constantly in the midst of exciting activities and developments. So let us know how we can better serve you.
If you weren't able to attend the APM or missed out on our live stream, please view our video below and let us know what you think.