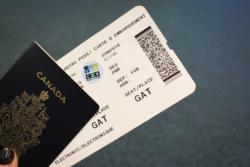 At YVR, we strongly believe in providing an enjoyable airport experience for all travellers.
And on November 14 we demonstrated this commitment with our new YVR Autism Access Sticker—the latest innovation in the I CAN Fly initiative, which is a collaboration between YVR and Canucks Autism Network.
The sticker is a self-identification tool that can be placed on boarding passes. It ensures an expedited airport process through screening and Customs and better communicates the needs of the passenger to airport employees.
This is a great example of how innovative ideas can be very practical and still have a profound affect. It also demonstrates how YVR is committed to removing travel barriers and creating a positive airport experience.
To coincide with the launch of the sticker, we brought back our popular YVR Accessibility Tour. Now in its third year, this program provides over one hundred individuals and family members living with autism the opportunity to experience the air travel process step-by-step. We had a great turnout and received very positive feedback from families, who appreciated the opportunity to practice going through the airport and relieve some of the anxiety of air travel.
We will continue these great initiatives and will continue to look for better ways to make air travel enjoyable and as stress-free as possible. And of course we are always looking for great ideas. If you have some suggestions on how we can further improve the airport travel experience, I encourage you to reach out to us through our website or in person at YVR. We encourage feedback and are open to hearing how we can make the airport better for everyone.
For more information on I CAN Fly and our Accessibility Tour, check out our Accessibility page on yvr.ca.
Program Testimonials
"It gives me comfort to know my kids have had this opportunity, and I know that it will reduce their anxiety and ours as parents. We now know that it is possible to have a family vacation together. We have been avoiding flying for about 5 years now...and we are going at the end of this Month. Thanks so much for this program and all that you do!"
"it was a great experience for my family as we will go to vacation on Cuba soon. we worried much about how our autistic son will react to all flight procedures and a flight itself as it is going to be his first time. Now I (his mom) feel much better and confident as I saw my son being exited and happy during that fake flight. I am finding this experience very helpful. It is a very good idea for all families with autistic members to get the opportunity to try and see how it would be going in reality and get prepared. I am very very thankful!"
"We were hoping to take a family winter holiday this year - our first one with our 5-year old ASD son. Up to now he has been completely resistant to the idea of boarding a plane. However, now that he has experienced this simulation it's highly likely that he'll be much more comfortable with the process. It's very important for him to know what to expect ahead of time when he is going to experience something anxiety provoking and this seems to have helped reduce his fear. We now hope to fly for vacations and to visit family members. Thank you!"