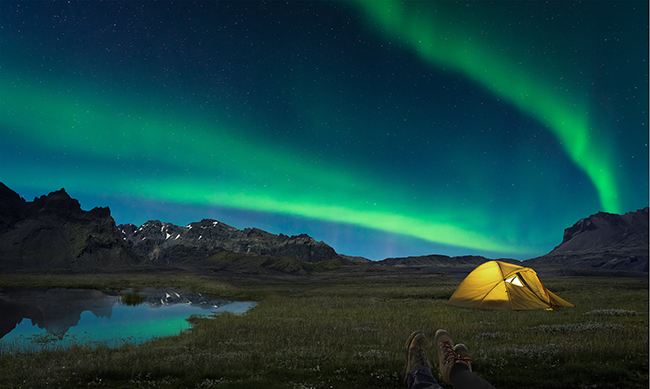 Photo credit: Icelandair
Iceland might be small – it has a population of just over 300,000 – but it's big on world wonders and natural beauty.

Where else can you descend 200 metres into a volcanic crater, dive between the North American and Eurasian continents, watch geysers erupt, view spectacular waterfalls, relax in geothermal waters, fly over volcanoes, play midnight golf, and chase the Northern Lights?

The land of fire and ice – named for its icecaps and around 130 volcanoes – is truly a nature enthusiast's paradise. And if you live in Vancouver it's easy to visit. Just hop on one of three weekly Icelandair flights direct to Reykjavik's Keflavík International Airport between May and October. And get ready to explore Iceland's natural wonders from the moment you step off the airplane.

Blue Lagoon

Bask in the warm, mineral rich, milky-blue waters of one of the world's most famous hot springs. Blue Lagoon is a geothermal spa located in a lava field in Grindavik on the Reykjanes Peninsula. It's a short 23 kilometres from Reykjavik's airport, making it the perfect relaxation spot for all travelers landing in Iceland's capital. Tourists weary from long international flights often head straight to this steamy oasis. If you opt to do the same, the Blue Lagoon has a luggage storage facility. On your visit, you can choose to wander around and float in the 37-39 degrees Celsius water, book an in-water massage, try out a free silicon mud mask, explore the steam cave, or relax in the steam bath and sauna. Before you leave, stop by the Blue Café for a snack or stay for dinner at the Lava Restaurant, which serves Icelandic dishes.

Northern lights

If you visit Reykjavik between September and April, don't miss the opportunity to watch the Northern Lights dance across the black night sky. Clear evenings are best for viewing and travelers can choose from several different tours offered out of Reykjavik. Watch the Aurora Borealis from a boat in the north Atlantic, chase the lights in a super jeep, or hop aboard a bus. Whether or not you catch the Northern Lights comes down to luck. But don't worry if you don't see them on your first time. Most companies give tourists another chance to take the tour free of charge.

Thrihnukagigur Volcano

Have you ever dreamed of descending 200 metres into a volcano? If you travel to Reykjavik, you can make this dream a reality. Iceland is one of the world's most volcanic regions. But you don't have to worry about Thrihnukagigur erupting any time soon. In fact, it last erupted 4,000 years ago, so visitors are safe to explore the volcano's magma chamber. Thrihnukagigur is located 20 kilometres from the capital and the tour involves hiking 45 minutes to and from the crater.

Game of Thrones Tour

If you're a fan of HBO's Game of Thrones, this is the tour for you. It puts Iceland's natural beauty on display while also giving enthusiasts the opportunity to feel like they're walking into the world of their favourite show. This is a full day excursion and includes highlights like Thingvellir National Park (a UNESCO World Heritage site), Lake Thingvallavatn, and Thjorsárdalur valley. Guides discuss scenes that were shot at each location, so tourists can connect with their favourite Game of Thrones characters and moments.

Arts and culture

Dive into Icelandic culture by dedicating a day to Reykajavik's many museums and art galleries. If you want to know more about the country's history, there is no better place to start than the National Museum of Iceland. It covers Icelandic history from the Vikings to contemporary culture. The museum has a variety of temporary exhibitions, but one major permanent exhibition – the Making of a Nation – is a must see for history buffs. It includes around 2,000 objects and 1,000 photographs. For other cultural experiences, consider visiting the Iceland Expo Pavilion, the Museum of Design and Applied Art, the National Film Archive of Iceland and much more.

Other must-dos

If you're an adventurous traveler, try snorkeling the Silfra Fissure. It boasts some of the clearest water in the world and is on the top 10 list of global dive sites. Make sure to also sample some local cuisine. Taste-test smoked lamb, snack on some skyr, enjoy a meal of fresh fish, or try a pylsur – a famous Icelandic hot dog. If you enjoy classical music, consider catching a performance by the world renowned Icelandic Symphony Orchestra. While most tourists visit Iceland between June and August, the country is equally beautiful in the spring, winter and fall. Just remember that at the peak of winter there are only a few hours of daylight and, during the summer months, the sun only sets for a few hours. Both times of year offer a unique experience, but regardless of when you visit, there's no shortage of adventure.
About Claire Newell
Claire Newell is a travel expert, author and a recognized authority on the international travel industry. She is the founder and owner of Travel Best Bets, one of the largest agencies in Canada and the best-selling author of Travel Best Bets – An Insider's Guide to Taking Your Best Trips, Ever. She has appeared in top broadcast and print media throughout U.S. and Canada over the last 22 years, including Canada's Global TV network, NBC's Today Show, Fox & Friends, CNN, and others. Claire also writes regularly for print and online publications including Readers' Digest, Today's Parent and more.