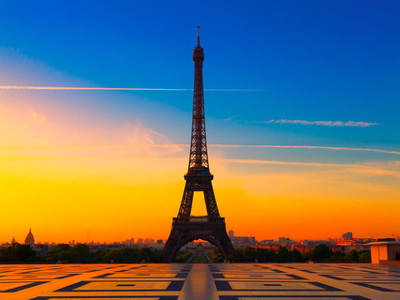 Paris is one of the most romantic, magical and culturally rich cities in the world. Its cuisine, fashion and history attract millions of foreign travellers each year. The city is a destination that you can return to many times and never have the same experience.

In fact, with hundreds of museums, monuments and art galleries, as well as parks and public squares, world-renowned restaurants and cafés, amazing shopping, exciting people-watching, magnificent cathedrals and much more, it's hard to cram everything into one vacation.

Whether you want to return to Paris for a new experience or have always been dazzled by the idea of a vacation in the City of Light, you're in luck. Thanks to Air France, Vancouverites can fly non-stop from YVR to Charles de Gaulle Airport between three and five times a week depending on the time of year.

So, start planning your next Parisian getaway, but don't get bogged down by the sheer amount of things to do in the city. Consider the type of adventure you desire. Do you want to spend your time visiting as many art galleries and museums as possible? Or would you prefer to shop, explore the city's neighbourhoods and dine with the locals? Or do you want a combination of everything?

To help you make decisions, I've outlined some of my favourite things to see and do in Paris below.

The Eiffel Tower

It might seem obvious to put this iconic landmark on your Paris "must do" list, but there are many different ways to experience the Eiffel Tower. The first decision you have to make is whether or not to go to the top or admire it from street level. The tower offers spectacular views of Paris, but lines can be long. Of course, if you don't want to wait for the elevator, you can take the stairs or book your ticket in advance. I prefer to grab a picnic lunch or late dinner and head to the lawn surrounding the Eiffel Tower. It puts on a pretty amazing light show every evening.

Avenue des Champs-Élysées

Spend an afternoon strolling Paris' most famous shopping district. This two-kilometre, tree-lined avenue boasts some of the most luxurious boutiques and lavish restaurants in the city. It's also home to several museums, including the Palais de la Découverte, Grand Palais and Petit Palais. Browse the shops or grab a coffee at one of the many cafés and watch the people pass by. Or, head to the Arc de Triomphe for a bird's-eye view of the Champs-Élysées.

Arc de Triomphe

Located at the western end of the Champs-Élysées, the Arc de Triomphe is an excellent way to see the Parisian skyline. It might only be 50 metres tall, but this monument offers a great view of the city from its panoramic terrace. You can even admire the Eiffel Tower in the distance. Built between 1806 and 1936, the Arc de Triomphe honours those who fought for France during the Napoleonic Wars. It's an excellent location for snapping photos and viewing beautiful buildings and architecture that you wouldn't otherwise see from street level.

The Louvre

The Louvre is the largest museum in the world and is home to an extremely impressive collection of art, including Leonardo da Vinci's Mona Lisa. The museum displays tens of thousands of works, including Egyptian antiques, crown jewels, ancient Greek and Roman sculptures, paintings and much more. But visiting 300 rooms full of treasures isn't for everyone. Unless you have days to spend at the Louvre, consider doing some research before your visit to decide what collections and works of art you want to see.

Rue des Martyrs

Located in the 9th arrondissement, Rue des Martyrs is a food-lover's paradise. If you want to pick up some ingredients for a picnic or dinner, this is the place to be. From fruits and vegetables, cheese, charcuterie, and olive oil to jams, bread, baked goods, and wine, this street has everything you need to delight your taste buds. While doing your shopping, stop by a café, have a glass of wine, share a charcuterie platter, and watch the locals. It's a great way to experience the non-touristy side of Paris. Don't underestimate the value of taking a day or two to step off the tourist trail and experience Paris as its residents do.

Other things to see and do in the City of Light

It's almost impossible to include everything a traveler can do in Paris in one article, so here are a few additional landmarks and activities you might want to consider. Spend a day walking through the works of famous early modern and impressionist artists like Matisse, Van Gogh, Monet, Degas and Rodin at the Musée d'Orsay. Or visit Notre Dame Cathedral early in the morning (to avoid long lines). It boasts some magnificent stained glass. If you have kids you might also want to take a day to visit Disneyland Paris, Parc Asterix or France Miniature, which includes 130 miniature French monuments.
About Claire Newell
Claire Newell is a travel expert, author and a recognized authority on the international travel industry. She is the founder and owner of Travel Best Bets, one of the largest agencies in Canada and the best-selling author of Travel Best Bets – An Insider's Guide to Taking Your Best Trips, Ever. She has appeared in top broadcast and print media throughout U.S. and Canada over the last 22 years, including Canada's Global TV network, NBC's Today Show, Fox & Friends, CNN, and others. Claire also writes regularly for print and online publications including Readers' Digest, Today's Parent and more.