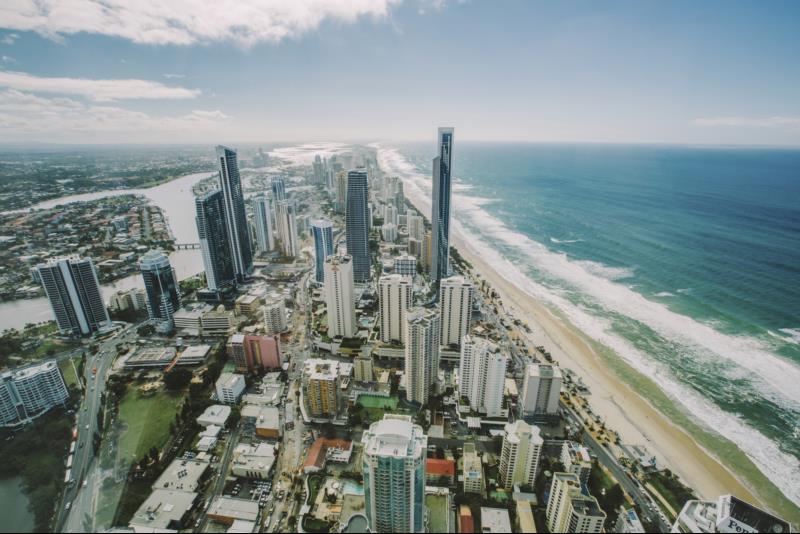 Photo Credit: Tourism Australia



YVR is happy to introduce Claire Newell as a guest blogger. Claire is a respected travel expert who knows all the best places to visit and where to find the hottest deals on flights from YVR:
Have you ever dreamed of surfing Australia's iconic Gold Coast, scuba diving the Great Barrier Reef or lounging on Queensland's sun-soaked beaches?
Thanks to Air Canada flying straight out of YVR, making this dream a reality has never been easier. As of June 1, the Canadian airline started offering the only year-round, non-stop service between Vancouver and Brisbane – the third largest city "down under."
Brisbane is a bustling hub of arts, entertainment, culinary experiences and bayside beaches, but it's also a major gateway to the rest of the Gold Coast, which averages eight hours of sunshine 300 days a year.
Vacationers looking to escape the fast-paced big city, for example, can easily travel to Coolangatta – a southern coastal town – in less than two hours by bus, train, or car. It's a great option for individuals and families seeking a laid-back beach and surf getaway. The best time of year to visit is between November and May when temperatures average between 20 and 25C.
But just because Coolangatta is relaxed, doesn't mean there's a shortage of restaurants, entertainment and things to do. You can spend your entire vacation lounging at the beach. Or you can surf, snorkel, dive, swim, golf and much more. Just make sure not to miss some of Coolangatta's main attractions.
Rainbow Bay
Rainbow Bay is home to the Snapper Rocks surf break, which boasts world-class waves. It's considered one of the best surf spots along the Gold Coast and has something for everyone – from beginners to individuals who have been hitting the waves their whole lives. There is no shortage of entertainment here either. If you visit Rainbow Bay in March, make sure to catch the Quiksilver and Roxy Pro. It attracts top surfers from around the globe!
Captain Cook Memorial and Lighthouse
For spectacular ocean views, head to this memorial and lighthouse located between Coolangatta, Queensland and Tweed Heads, New South Wales. The area is also called Point Danger. Captain James Cook gave it the nickname during a 1770 voyage to warn others about perilous coral reefs just off the coast. If you're lucky, you might catch a glimpse of some dolphins at this amazing lookout spot.
Kirra Reef
Diving enthusiasts should check out Kirra Reef. It's only a few hundred metres offshore and a great place to explore rocky outcrops and watch schools of fish, eels, and carpet sharks. Divers can simply walk out to the reef to access it and the water remains pleasantly warm throughout the year.
Golfing
Australia's Gold Coast is a golfers paradise, boasting more than 40 courses – some designed by pros like Greg Norman, Arnold Palmer and Jack Nicklaus. Book a round at the Coolangatta & Tweed Heads Golf Club for a challenging game in a beautiful setting along the Tweed River. This club includes two courses – the River Course and the West Course. Both are technically located in New South Wales, but are a short five kilometres from Coolangatta.
Dining/Shopping
While there are plenty of amazing restaurants in Coolangatta – offering everything from sushi to pizza, seafood and more – make sure to stop by the Surf Lifesaving Clubs (SLC) for quality, cheap meals. You can find them on every patrolled beach. They're there for the lifeguards, but also accept guests.
About Claire Newell
Claire Newell is a travel expert, author and a recognized authority on the international travel industry. She is the founder and owner of Travel Best Bets, one of the largest agencies in Canada and the best-selling author of Travel Best Bets – An Insider's Guide to Taking Your Best Trips, Ever. She has appeared in top broadcast and print media throughout U.S. and Canada over the last 22 years, including Canada's Global TV network, NBC's Today Show, Fox & Friends, CNN, and others. Claire also writes regularly for print and online publications including Readers' Digest, Today's Parent and more.