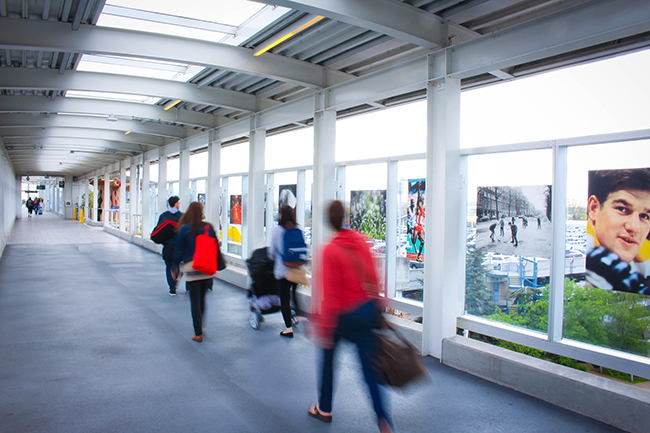 This past weekend we celebrated the opening of the Capture Photography Festival with the unveiling of an installation at YVR-Airport Canada Line Station. The installation features the work of Photographer Ted Grant who is widely regarded as the founder of Canadian photojournalism.
During a career spanning 60 years, Grant captured many of the most important historical events of our time. He travelled the world to shoot news, sporting events and important people for Canada's most prominent newspapers and magazines. Currently there are thousands of his photos kept at the National Archives of Canada. Grant's iconic photograph of Pierre Trudeau sliding down the banister of Ottawa's Chateau Laurier Hotel is thought to have been the beginning of Trudeaumania.
From the Capture Photography website:
As a photojournalist and documentary photographer, Grant does not manipulate or stage his photos to achieve any preconceived idea of what the photo should convey. He doesn't pose his subjects and he doesn't use flash. He doesn't need to. And while his intent is to allow the photograph to speak for itself, there is no denying that it is his unique way of seeing and experiencing the world that determines which moment is captured and chosen to convey the true essence of a subject.
The Ted Grant photos on display at YVR-Airport Station are a small and varied sampling of his work.
Photography lovers can join the Capture Festival's guided installation tours at 2pm on April 10, 17 and 24. On April 17, we'll have the honour of Ted Grant's attendance for the tour. Mr. Grant will share stories from his memories of shooting the iconic photographs. The event is free, but RSVP is required. You can email [email protected] if you'd like to attend.
The Capture Photography Festival features more than 50 public photo installations across Metro Vancouver, all free of charge. Find more information at: capturephotofest.com.