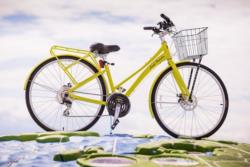 Bike to Work week starts today! To help support this YVR-sponsored initiative we will host a celebration commuter station at Larry Berg Flight Path Park for cyclists. This will feature a service station for bikes, snacks, and an appearance from the YVR flight crew, who will have fun games and prizes for attendees.

YVR is a proud supporter of Bike to Work Week as it is our goal to be a leader in sustainability. We are committed to providing sustainable modes of transportation and reducing our carbon footprint. YVR has participated in Bike to Work Week since 2009, partnering with HUB Cycling to encourage Sea Island commuters to choose biking as their preferred mode of transportation. HUB is a charitable organization that addresses cycling issues in Metro Vancouver. YVR supports sustainable initiatives, and our Green Commuter Program incentivizes green modes of transportation such as cycling for airport employees.
As the weather gets cooler, don't let yourself Fall out of cycling, and join us for free mechanic services, snacks and goodies! For more information about cycling around Sea island, visit yvr.ca.