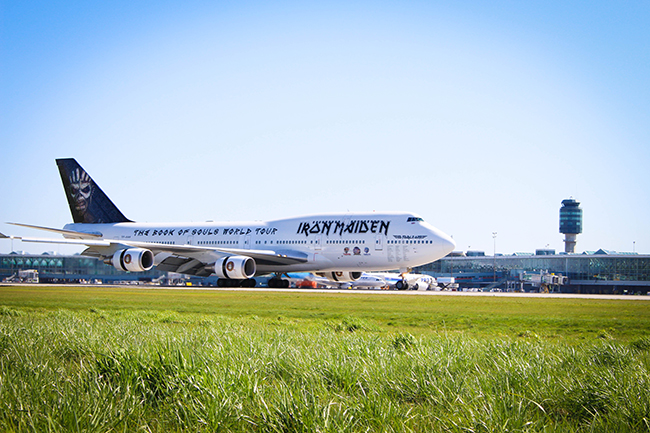 This weekend YVR welcomed Iron Maiden's tour plane, Ed Force One, which touched down for the Vancouver stop of the band's "Book of Lost Souls" tour. The airliner is a Boeing 747-400 captained by the band's lead vocalist, Bruce Dickinson.
Iron Maiden has a history of rocking out with a personal tour plane. In the past, they've flown a Boeing 757-200, but this tour they've gone big with a Boeing 747-400. The aircraft is currently on loan from Air Atlanta Icelandic and will be used to transport the band, crew, and 12 tons of equipment to 35 countries on the tour. It has a prominent Iron Maiden-themed livery, with a tail design taken from the Book of Lost Souls album cover.
Iron Maiden has certainly traded up in selecting the 747-400. It's twice the size of the 757-200, has a split-level, and can travel nearly twice the distance and climb up to 3,000 feet higher.
Following their show in Vancouver, the band is continuing their world tour with stops in Tokyo, Sydney, Johannesburg, Paris, Oslo, Moscow and Rome. Whenever Ed Force One touches down in new city, Iron Maiden's fans are on hand to snap pictures of the plane and share them on social media using the #EdForceOne hashtag. The band collects these pictures and posts them on their plane-spotting wall.
Did you know?
Ed Force One got its name through a naming competition on the band's website.
Iron Maiden's lead vocalist, Bruce Dickinson, a licensed commercial airline pilot, was formerly a captain for Astraeus Airlines. And not only was he captain, he was also the marketing director for the airline. Talk about a multi talented rock star!
Characteristics of the Boeing 747-400:
Cockpit Crew: 2
Wingspan: 64.4m (211ft)
Length: 70.7 (232 ft)
Height: 19.4 m (63.6 ft)
Maximum Speed: 1041.25 km/h (.85 mach)
Maximum Ceiling: 45,000 feet
Maximum Range: 13,450 km (7262 nautical miles)