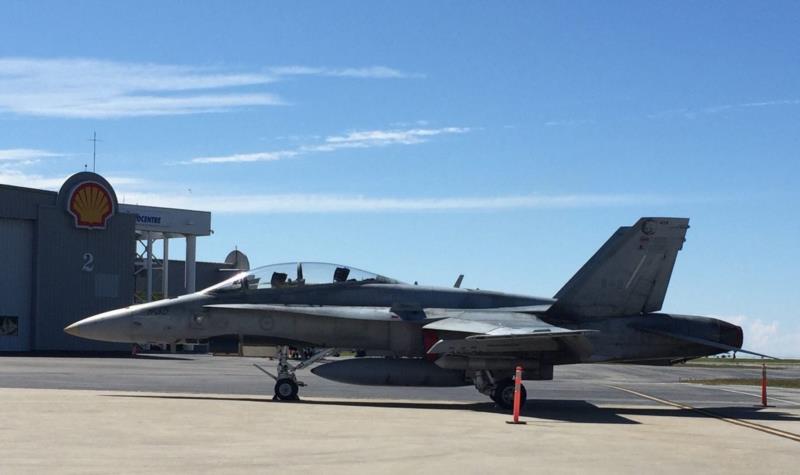 Primarily used by the Royal Canadian Air Force, the CF-18 costs about $35 million per unit and can reach speeds up to 1,814 km/h (1,127 m/ph or Mach 1.8). Based on the American McDonnell Douglas F/A-18 Hornet fighter, the CF-18 (official military designation CF-188) was officially handed over in 1982 and 138 units total have since been built.
General characteristics
Crew: 1 or 2
Length: 17.07 m (56 ft 0 in)
Wingspan: 12.31 m with Sidewinders (40 ft 0 in)
Height: 4.66 m (15 ft 4 in )
Empty weight:10,455 kg (23,049 lb)
Loaded weight: 16,850 kg (37,150 lb)
Max. takeoff weight: 23,400 kg (51,550 lb)
Powerplant: 2 × General Electric F404-GE-400 turbofans, 16,000 lbf (71.2 kN) each
Performance
Maximum speed: 1,814 km/h (1,127 mph, Mach 1.8) at 11,000 m (36,100 ft)
Combat radius: 537 km (290 nmi, 330 mi) on hi-lo-lo-hi mission
Ferry range: 3,330 km (1,800 nmi, 2,070 mi) (range without ordnance)
Service ceiling: 15,000 m (50,000 ft)
Rate of climb: 254 m/s (50,000 ft/min)
Thrust/weight: 0.89
The Hornet has been spotted at YVR a few times in the last month or so, most recently we managed to snap a photo of it alongside another unique aircraft, the Antonov An-124 (see photo below). People always know when the aircraft makes a visit because the incredible sound it makes as it goes vertical and climbs up in to the sky.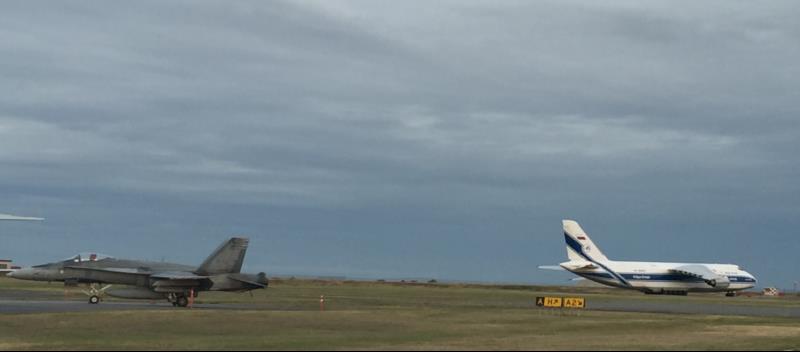 YVR Connection: Vancouver Airport Authority President & CEO Craig Richmond used to pilot a CF-18 during his time with Royal Canadian Air Force. That's him in the picture below!