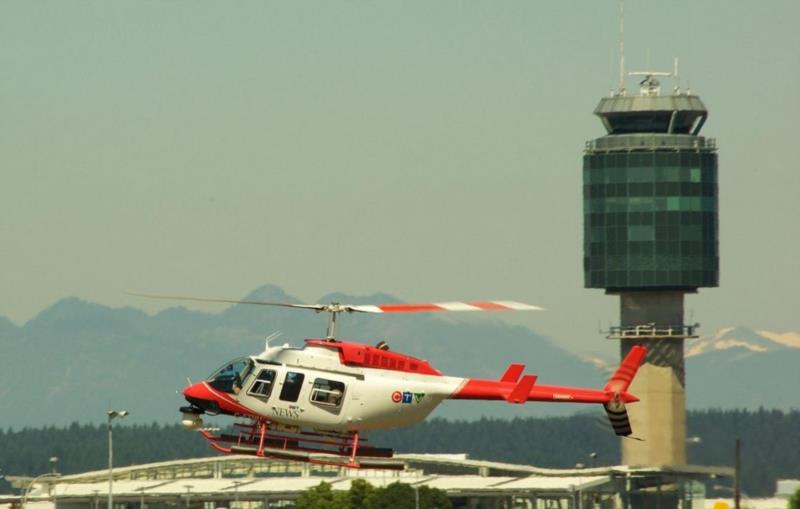 This month's Aircraft of the Month is Chopper 9, a news gathering helicopter used by CTV to capture images from all over the Lower Mainland. And the camera operator himself Murray Titus reached out to us with some amazing info.
Frequent visitors to YVR or avid plane spotters will recognize Chopper 9 quite well as it regularly zooms in and out of its perch at South Terminal hunting for news.
Murray himself provided fantastic insight in to the function of Chopper 9 and some interesting background and statistics of the chopper's history at YVR:
"CTV Chopper 9 is a Bell 206 L4 Longranger and it has been in service to CTV Vancouver since Aug 2004. It is equipped with a FLIR Ultra Media III camera system that provides a gyro stabilized camera platform to News Gather from the air.
Chopper 9 has flown over 5000 flight hours during countless News Gathering Missions. The helicopter is owned and maintained by Talon Helicopters. Talon Helicopters perhaps best known for providing Helicopter services to North Shore Search and Rescue as well as a number of other local SAR teams in the lower mainland.
The crew of Chopper 9 consists of a pilot, a flight camera operator and a reporter when operating during the suppertime news broadcasts. Chopper 9 is capable of broadcasting live via a microwave link to one of three receive towers located around the lower mainland. The main receive tower is located on Mount Seymour.
Each of our pilots also fly rescue, fire and general aviation missions. There are currently 5 pilots who look after the flight duties. There are 3 Camera Operators whom rotate flight duties, including myself. Presently there are 4 reporters whom depending on their rotation share reporting duties from the sky.
All members of the Chopper 9 Crew have taken Aviation Egress Training.
Chopper 9's primary function is a News Gathering Helicopter, that is to say we are a news hunter, not traffic watch platform. News Gathering Assignments have included Forest Fires, Police incidents, Search and Rescue stories, Landslides, Flooding, Fires, Whale watching, Air to Air shots of both military and civilian aircraft. Chopper 9 was also Canada's Olympic Helicopter during the 2010 Winter Olympic Games."
Big thanks to Murray and the whole Chopper 9 team for sharing some amazing photos on social media from around YVR. Follow @choppermurman, @bmanphoto, @ctvsarah and @PennyDaflos for tons of sweet snaps from our friends on Chopper 9!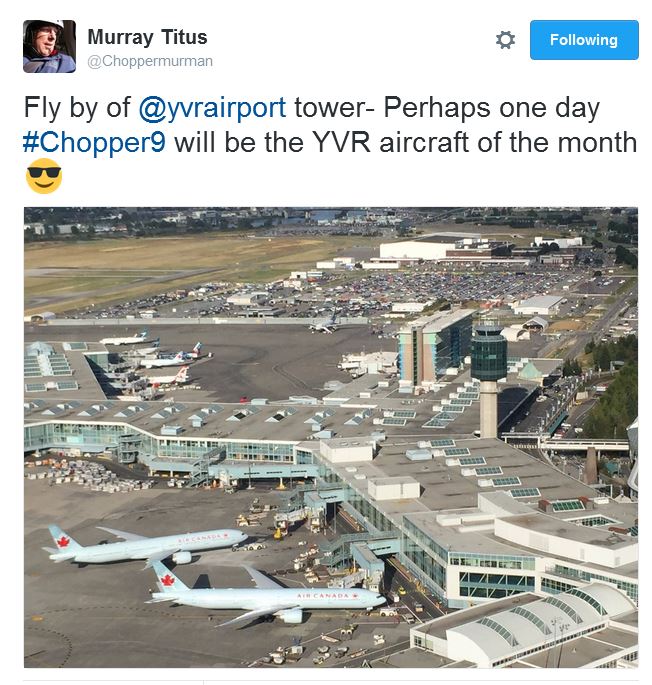 General characteristics
Crew: one pilot
Capacity: four passengers
Length: 12.11 m (39 ft 8 in)
Rotor diameter: 10.16 m (33 ft 4 in)|
Height: 2.83 m (9 ft 4 in)
Disc area: 81.1 m² (872 ft²)
Empty weight: 1,057 kg (2,331 lb)
Max. takeoff weight: 1,451 kg (3,200 lb)
Powerplant: 1 × Allison 250-C30P turboshaft, 420 shp; derated to 317 shp due to drivetrain limitations (310 kW)
Performance
Never exceed speed: 241 km/h (130 knots, 150 mph)
Maximum speed: 222 km/h (120 knots, 138 mph)
Range: 693 km (430 mi,374 nmi)
Service ceiling: 4,115 m (13,500 ft)
Rate of climb: 6.9 m/s (1,350 ft/min)
Disc loading: 177 N/m² (4 lb/ft²)
Power/mass: 430 W/kg (0.26 hp/lb)
Banner photo courtesy of @stucktweet and top photo courtesy of @trev_batstone