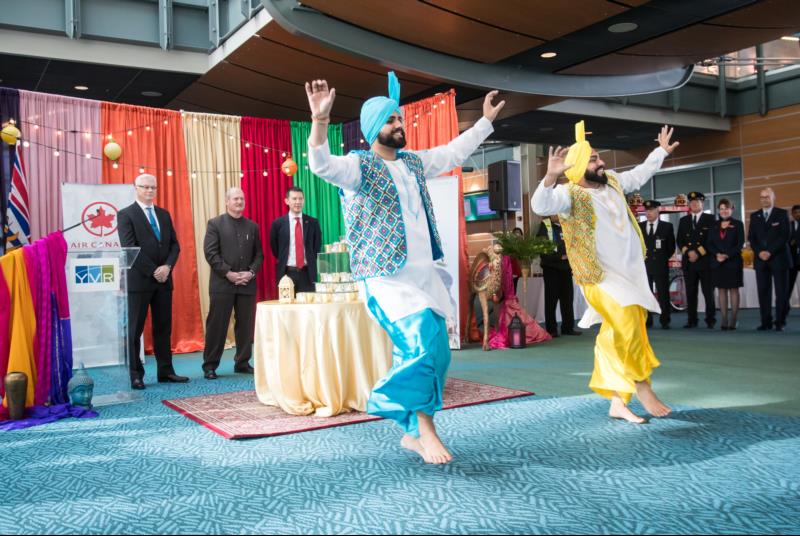 The community asked, and YVR along with Air Canada delivered, as we recently celebrated Air Canada's inaugural service to Indira Gandhi International Airport (DEL) from Vancouver International Airport. The highly anticipated service marks the first non-stop flight from Vancouver to India and highlights YVR's continued growth as a premier connecting hub between Asia and the Americas.
Just in time for the vibrant festivities of Diwali, this new route is made possible by advances in aircraft technology allowing lighter aircrafts to fly further with less fuel. Air Canada will operate a Boeing 787-9 Dreamliner, featuring 30 International Business Class lie-flat pod suites, 21 Premium Economy and 247 Economy Class seats with upgraded in-flight entertainment. The flight departs YVR at 23:15, arriving in DEL at 01:55(+2) local time. It will depart DEL at 06:55 and arrive at YVR at 08:20. Flight times will be adjusted in early November to account for daylight savings. The flights are timed to optimize Air Canada's Western Canada and US network through YVR.
As a direct result of the new Vancouver to Delhi service, more than 90 jobs were created at YVR and throughout British Columbia. And additional $5.4 million in Gross Domestic Product, $1.9 million in taxes and $3.4 million in wages were added to the province. In 2015, close to 50% of passengers welcomed at YVR came on Air Canada aircraft. This latest Air Canada inaugural is in addition the exceptional growth out of YVR in the last two years with new routes to Osaka, Cancun, San Jose, San Diego, Chicago, Dublin, Brisbane and Delhi. Looking ahead to 2017, Air Canada will launch three new international destinations including daily service to Dallas Ft. Worth starting February 6, followed by thrice-weekly service to Nagoya on June 1 and daily service to Taipei on June 8.