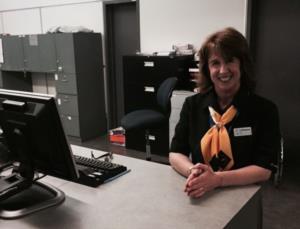 It's been just a few months since YVR Stars officially launched, and the star nominations have been pouring in. YVR Stars is a program that officially recognizes those employees and volunteers who go above and beyond for YVR's visitors. Each month we will feature one YVR Star to celebrate the contribution they've made to customer care at YVR.
This month's YVR Star is Hazel Leier of Lufthansa. Hazel is a 24-year Lufthansa employee, with 22 of those years spent right here at YVR. Known as the "hero of the baggage hall," she is a shining example of the importance of putting passengers' needs first.
For years, Hazel has made it her mission to reunite passengers with orphaned bags. She stops at nothing to get suitcases, duffle bags, and backpacks to their rightful owners, no matter what airline they've flown. Hazel doesn't do this because it's in her job description, but because she cares deeply about passenger satisfaction.
Hazel works hard every day, so it's no wonder she feels a tremendous sense of satisfaction and accomplishment when she sees a passenger's baggage frustrations melt away.
Hazel Leier, for all your efforts, Lufthansa and YVR thank you!
Have you witnessed great customer care in action at YVR? Then nominate a YVR Star. Fill in a form at any Customer Care counter in the terminal or email
[email protected]
. Submissions can also be made online via Twitter at
@yvrairport
using the hashtag #YVRStars.