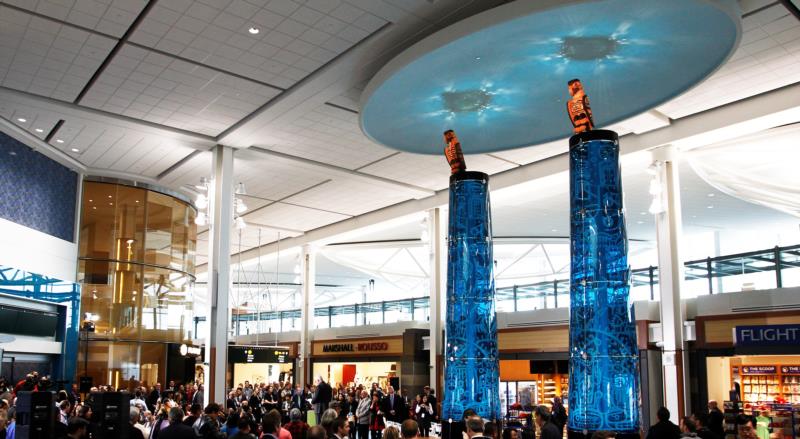 YVR recently celebrated the grand opening of the expanded Domestic Terminal, the A-B Connector. Featuring spruced-up gates, an expedited baggage system, seismic upgrades and a bunch of new places for travellers to eat and shop.
The upgrades and expansion were made to the original areas of YVR's 1968 terminal.
Passengers travelling through the A-B Connector will enjoy tasty street-priced food and beverage options at 10 new shops, restaurants and services and will have access to YVR's largest Plaza Premium pay-per-use lounge. The Marshall Retail Group selected YVR for its first Canadian flagship operation and will operate four stores: Flight Stop, Marshall Rousso, Lick candy store (seen below) and Tumi. Other concession include ICE Currency Exchange, Green Bean Café (one of our oldest concessions) and the hotly anticipated Carl's Jr! Vino Volo and Famous Famiglia will open later in 2015.
YVR's award-winning sense of place is visible throughout the A-B Connector with a design that celebrates British Columbia's Interior. Architectural features evoke imagery from B.C.'s famous vineyards and orchards, fishing lodges and the Fraser River and Canyon. The space is anchored by the contemporary art piece, The Rivers Monument, by amazing B.C. artist Marianne Nicolson.
We can't wait to welcome all our passengers to this amazing new space that puts the fun in functional. Next time you're through the terminal try out a juicy, all-natural burger from Carl's Jr., grab some sweet treats for your flight from Lick, pamper yourself in the Plaza Premium Lounge or take a seat on one of the cool new benches that were salvaged from 750-year-old trees in Squamish.
For more fun facts about the A-B Connector read our 15 Notable Numbers From the A-B Connector Grand Opening.