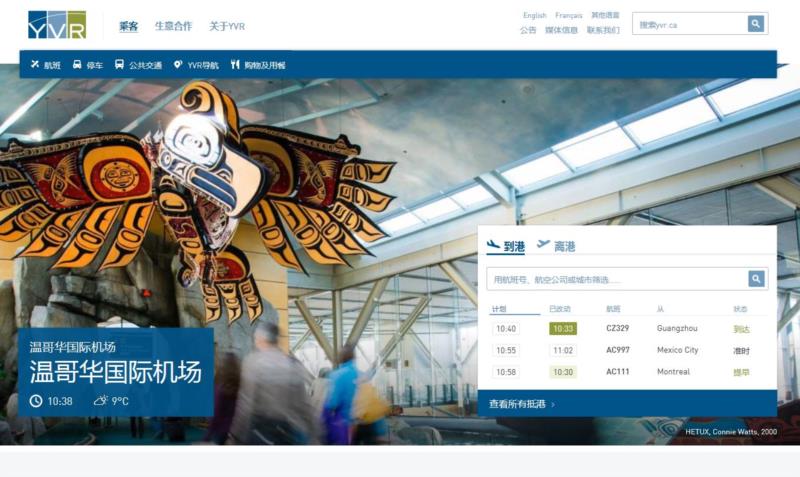 The last-minute checklist before you take off on another amazing adventure from YVR should include clicking on these links to make sure you have the best possible travel experience that is both stress-free and fun-filled.
Driving to the airport? Cutting it a bit thin? Figure out if any construction or motor vehicle accidents are causing congestion on your route by checking the local traffic cameras. Updated in real time, you will be able to better plan your drive to YVR and sort out an alternate route if necessary.
Taking public transit to YVR? Check in with TransLink for any major service disruptions or to find the absolute fastest way to reach YVR via bus/train/seabus. You can also follow them on twitter here for instant updates.
Government of Canada travel website
The Travel Canada website has a ton of great resources for Canadians abroad. They post important travel, weather and health advisories, list embassy and consulate contacts and can help out should you have the misfortune of losing vital travel documents. Offered by Foreign Affairs, Trade and Development Canada, the registration service is free and keeps you connected to Canada in case of an emergency abroad - such as an earthquake or civil unrest - or an emergency at home.
We post any latest information concerning airport operations on our homepage and will use an alert bar in the event of a major incident. You can also check flight status, peruse our food and beverage options or do some Windows shopping (get it?) all before arriving at the terminal. You should also follow us on twitter @yvrairport for quick info. Our website is also available in French and simplified Chinese.
Any important weather advisories that may impact your outbound travel plans will be posted to the official website of Environment Canada. If you see something that might delay or cancel a flight, check with our next entry on the list for the most up-to-date flight info.
So much important information can be found at your airline's website, and if you've booked through a third party you may never have visited to check on things like: luggage allowances, important info about flying with your pet, or details on in-flight entertainment options. You can also manage your booking, arrange any special assistance and, of course, use the online check-in function to snag your favourite seat and save some time at the airport.
The Canadian Air Transport Security Authority's website (CATSA) has some super-useful functions if you're about to take off. Their wait time calculator will let you know approximately how long the lineups are at security checkpoints, and the What Can I Bring? tool is great for figuring out what you can and can't bring in your carry-on luggage.