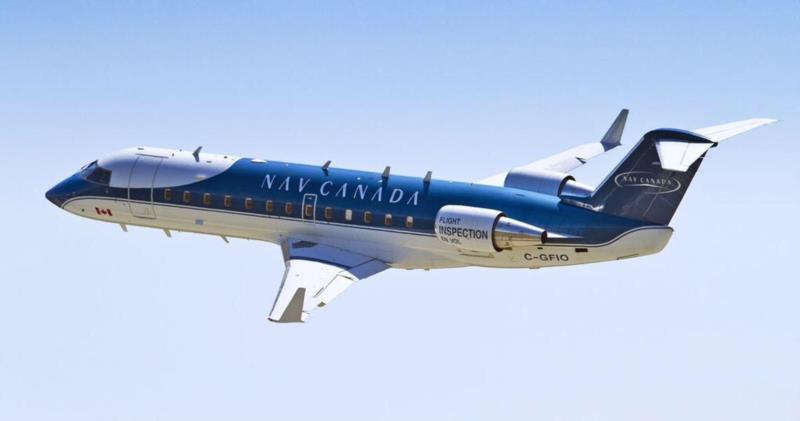 NAV CANADA is heading to YVR to test our Instrument Landing System (ILS). For those who are unfamiliar with what the ILS does, it's a navigation instrument that guides pilots safely to the runway during good and bad weather conditions, and is very useful in fog. To test the reliability of the ILS system, NAV CANADA conducts routine maintenance and flight checks at airports across Canada.
Whenever the ILS plane visits YVR we get questions from the public about an aircraft making repeated passes at the runways. Don't worry! It's just a test and it's to make sure the ILS is working properly.
Testing this system is no small feat. The ILS uses radio beam transmitters to provide direction for approaching aircrafts. Since the system transmits radio waves in to the air, the only way for NAV CANADA to test the system is to use a specially modified CRJ-200 aircraft (pictured above). Typically the flight checks involve flying the aircraft along and around these radio waves at 200 knots, gear up and with a maximum bank angle of 45 degrees. It's not as extreme as a Red Bull Air Race but you'll see still get a chance to see the airplane do some pretty cool maneuvers were not used to seeing around the airport.
We're hoping our plane-spotting community might be able to grab some snaps of the NAV CANADA plane in action. For first-time spotters, some great places to spot NAV CANADA's airplane around YVR include Larry Berg Flight Path Park, the South Terminal Viewing Platform, Public Observation Area, and the gravel shoulder at the intersection of Templeton Street & Grauer Road on Sea Island depending on which runway is in operation. Happy spotting!