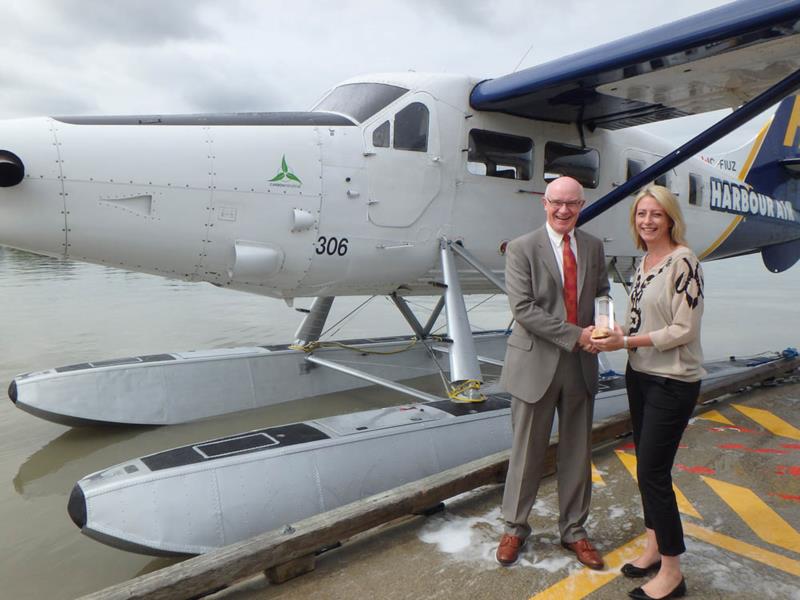 YVR is proud to crown Harbour Air as the 2015 Clear Skies Award winner. As part of the Environment Week celebration, YVR presented the award to Harbour Air on June 4, 2015.

The Clear Skies Awards is YVR's environmental awards program, designed to recognize Sea Island businesses and their commitment to sustainability. Each year, we recognize a company who demonstrated their enthusiasm and commitment in improving their environmental footprint by reducing greenhouse gas emissions, portable water consumption, waste or improving the ecosystem on Sea Island.

Harbour Air has demonstrated its environmental responsibility for seaplanes and aviation around the world for over 30 years. In 2011, it became the first airline in North America to achieve complete carbon neutrality in both flight service and corporate operations.

To date, the airline has offset close to 60,000 tonnes of carbon, an equivalent of taking approximately over 12,600 cars off the road. Harbour Air also implemented a ticketless airline system where travel confirmations are sent by email and re-usable boarding passes are utilized. Harbour Air's commitment to Sea Island's ecosystem includes participating in City of Richmond's Partners for Beautification, a program focused at educating and empowering volunteers to clean up the Fraser River.

Congratulations Harbour Air!