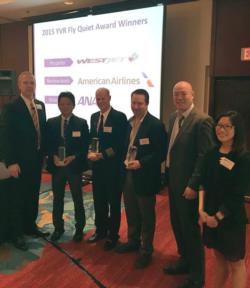 YVR recently announced the winners of the 10th annual YVR Fly Quiet Awards. These awards are presented to acknowledge airlines that demonstrate good noise management practices at YVR. Selection of the winners are based on having the lowest average measured noise levels and being on good standing with the YVR Noise Abatement Procedures. Winners are recognized in three different aircraft categories: propeller aircraft; narrow-body aircraft; and wide-body aircraft.
This year's winners are:
Central Mountain Air – Propeller Aircraft
Jazz – Narrow-body Jet Aircraft
Japan Airlines – Wide-body Jet Aircraft
Given advances in aircraft and engine design, newer aircraft are getting much quieter than older generation aircraft. For example, the Boeing 787 Dreamliner, the newest aircraft operating at YVR, is a long-range, midsize wide-body, twin-engine jet airliner developed by Boeing Commercial Airplanes. According to Boeing Commercial Airplanes, the Boeing 787 Dreamliner uses a number of new technologies to reduce the noise footprint by 60% smaller than similarly sized airplanes.
This winner for the wide-body jet category, Japan Airlines, was the first airline to begin operation with the Boeing 787 at YVR in February 2014 for their daily non-stop services between YVR and Tokyo. A number of operators have since introduced the Boeing 787 into service at YVR.
Vancouver Airport Authority is committed to managing airport noise, while balancing the community's need for safe, convenient 24-hour air travel with enjoyable urban living. For more information, please visit
www.yvr.ca/noise
.